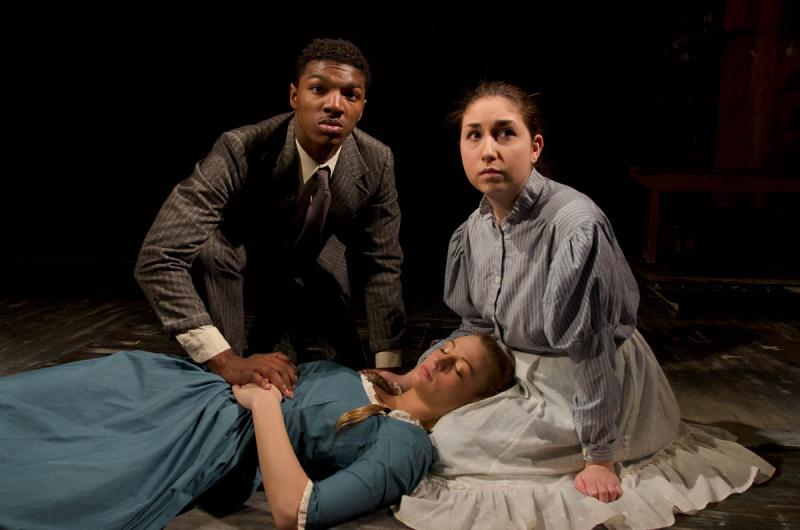 The "Anatomy of Gray" cast includes, from left, Mary Beth Cartier of Pittsburgh, Lacey Murdock of Erie, and Teireik Williams of Pittsburgh.
Image: John Fontecchio
'Anatomy of Gray' is spring Studio Theatre production
Shows set for April 5 to 7, 11 to 13
March 20, 2013
The spring Studio Theatre production at Penn State Erie, The Behrend College, is a magical fable that cleverly balances comedy and tragedy, the mundane and the sublime.
Set in heartland America during the late 19th century, "Anatomy of Gray" is a coming-of-age story that explores the intersections of science, faith, love, loss and hope. When young June's father dies, she prays for a healer to come to her small Indiana town so that no one will suffer again. Are her prayers answered when, the next day, a man in a balloon blows into Gray and professes to be a doctor? It seems they are, until a mysterious illness starts claiming more lives.
"One of the reasons that I am particularly excited about directing 'Anatomy of Gray' is that the playwright, Jim Leonard, is a good friend and mentor of mine going back over 20 years," said David Vegh, the Penn State Behrend theatre faculty member who will direct the show. "We met in the late '80s when I was an actor in his play 'The Diviners,' and he later was my playwriting teacher in an M.F.A. (master of fine arts) program at Arizona State. When he started writing and producing television in Hollywood, I worked as his assistant for a while in addition to playing small roles in some of the shows he wrote, most recently 'Dexter.'"
"I just love his playwriting," Vegh added. "Jim tends to set his stories in bygone eras, but he brings a very modern sensibility to them, similar to the Coen Brothers, whose films I also adore. This play, like Thornton Wilder's 'Our Town,' is very theatrical in a minimalist sort of way. The audience really gets to use its imagination, which to me is the magic of live theatre."
Leonard himself has described "Anatomy of Gray" as "a children's story for adults." "It's a beautiful story with universal themes that remain very relevant to our world today," Vegh said. "It's a very funny play, but at the same time, if we do our job right, there are going to be some moments that might break your heart as well."
The student cast of "Anatomy of Gray" is Erie residents Lacey Murdock and Adam Rossi; Ryan Richards, of Edinboro; Caitlin Adair, of South Fayette; Chikodili Agwuna, of Columbia, Md.; Abigail Braun, of Export; Rayna Ganabathi, of Clarion; Kyle Mathias, of Butler; Steven Savoy, of Hagerstown, Md.; Kimberly Shaner, of New Wilmington; Sarah Veslany, of Allentown; and Mary Beth Cartier, Cory Phillips and Teireik Williams, of Pittsburgh.
"Anatomy of Gray" will be performed at 8 p.m. Friday, April 5; Saturday, April 6; Thursday, April 11; Friday, April 12; and Saturday, April 13. There will be one matinee, at 2 p.m. Sunday, April 7. Tickets are $5 for general admission and $3 for students. Reserve tickets by calling 814-898-6242.