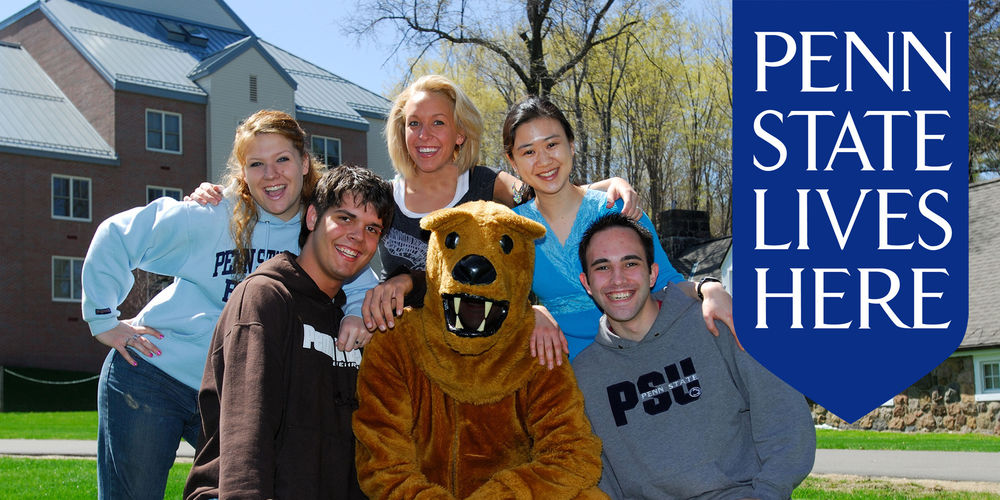 A new brand initiative—with the creative theme of "Penn State Lives Here"—is now being unveiled at Penn State campuses across the state, including here at Penn State Behrend.
The initiative was publicly introduced with a two-minute video during halftime of the Michigan game on Saturday, October 12, in Beaver Stadium on the University Park campus. The theme made its appearance at Penn State Behrend today, Monday, October 14, with the unfurling of a banner on the north side of John M. Lilley Library and airing of the campaign video in Bruno's Café.
"It is meant to embody the spirit of Penn Staters everywhere," says Penn State Behrend Chancellor Don Birx, "and to help us speak with consistency and clarity about the impact Penn State students, faculty, staff, and alumni are making in the classroom, in research facilities, in their professions, and in service to others in their communities and around the world."
The initiative is the result of research, surveys, and discussions with thousands of students, faculty, staff, and alumni about what Penn State means to them and the value they believe the University delivers.
Watch the video here and see for yourself how "Penn State Lives Here."