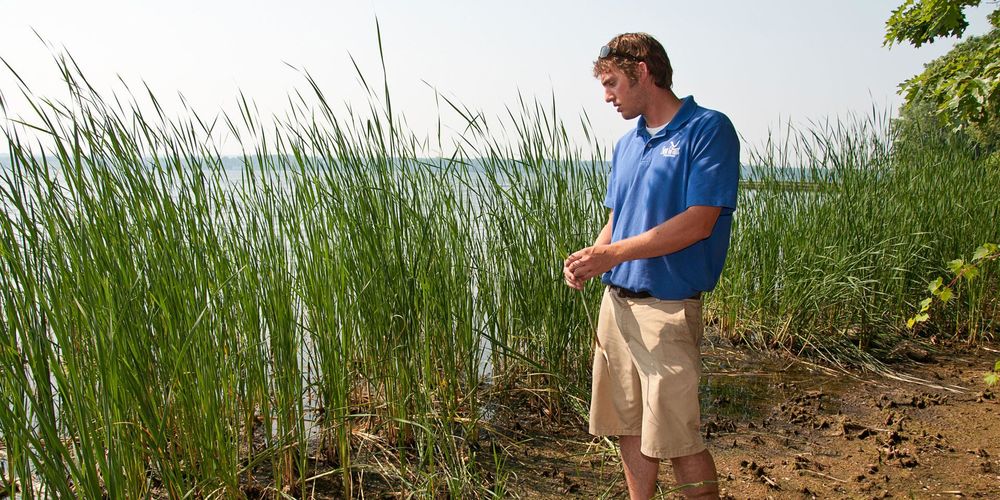 Presque Isle State Park in Erie is under siege. Invasive plant species are pushing out the native species and that spells trouble for the insects, animals, and microorganisms that rely on native plants. It's an epic battle that has ensnared the park's trees in the vines of Oriental bittersweet, filled the wetlands with Phragmites australis, and clogged paths with garlic mustard.
Enter the Weed Warriors
But thanks to efforts by Matt Pluta '11, research assistant with Pennsylvania Sea Grant, and his crew of volunteer Weed Warriors, the invasives have been losing ground. A native Erieite himself, Pluta grew up in and around the water. He lifeguarded throughout high school and played water polo for the college. It was water that brought him to the School of Science. He planned to major in business management but switched gears after taking an oceanography class taught by Dr. Anthony Foyle, associate professor of geology.
Now Pluta manages the plant war at Presque Isle. Fueled by federal grant funds and an enthusiastic group of nearly 200 volunteers, Pluta and the Weed Warriors are winning the battle against the top five most-wanted invasive species on the 3,200-acre peninsula (see sidebar).
Roots Run Deep
Pluta's invasive plant-eliminating roots run deep into his years at Penn State Behrend, where he worked to eliminate Phragmites australis, a tall amber perennial reed grass with a feathery plume, in the wetland areas on campus.
"It was an independent research project, and Matt was diligent in trying to figure out how to eradicate and dispose of the reed grass," said Ann Quinn, who, along with Lisa Mangel, both lecturers in biology, helped Pluta develop the project. "He was forever in those marshes, learning about the monoculture that the invasive weed creates." Phragmites australis plague Presque Isle, too. "It was really helpful to have had that experience," Pluta said.
What's the big deal?
Why all the effort to eradicate a few pushy plants?
Bottom line: Invasive plants upset the balance in the ecosystem, and that can have serious consequences.
"Native species provide habitat and food for native insects, birds, and animals," Pluta explained. "With an invasive plant, nothing feeds on it or otherwise disrupts its growth, so it just goes wild, stealing sunlight and soil from the plants that should be there."
Since April, Pluta and his band of warriors have logged more than 500 hours, removing 377 bags of garlic mustard and cutting several acres of Oriental bittersweet.
"A program such as the Weed Warriors will only be as successful as the intentions and commitments of the volunteers," Pluta said. "I'm extremely grateful to be working with the earth-minded volunteers who care for it."