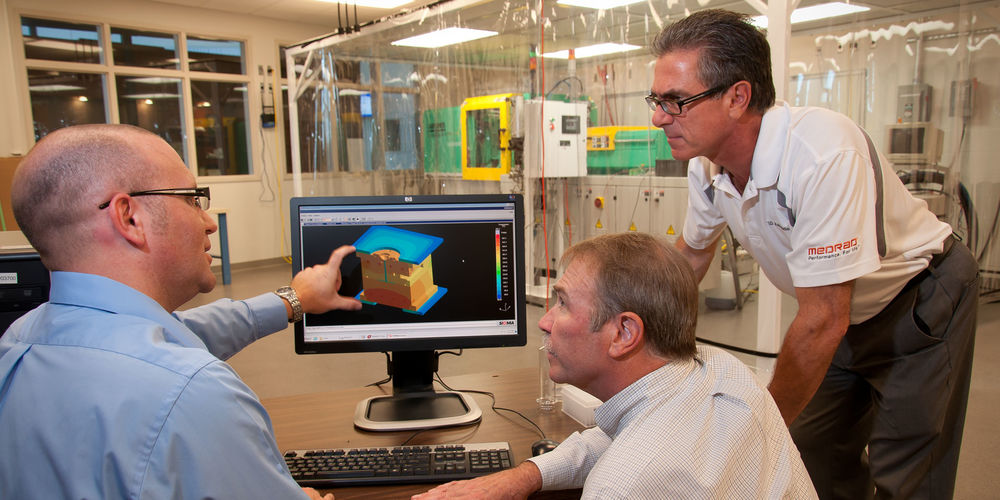 With a growth rate of nearly 10 percent annually, sales projected to reach $6.55 billion this year, and an estimated 100,000 jobs, the medical plastics sector in the United States is a flourishing industry.
At least part of the demand can be attributed to health care consumption by the aging Baby Boomers, that gigantic generation of Americans who have shaped national trends since they began arriving in 1946. The fact is that plastics have made health care, in particular, safer, less painful, and more cost effective.
Now, with the opening of a $4 million Medical Plastics Center of Excellence, Penn State Behrend is poised to play a key role in this thriving industry.
"In creating the center, we have established two primary goals," said Ralph Ford, director of the School of Engineering. "First, we are educating engineers who will have practical experience in medical device development. Second, we are partnering with companies to help them develop the next generation of medical devices."
The MPC is part of the college's Open Lab initiative in which members of industry and academia work side-by-side on research and development, sharing expertise and resources.
"We want to partner with companies to maximize medical device performance and help lower the cost of health care," said Jason Williams '92, lecturer in plastics engineering technology and head of the center.
To date, four leaders in the industry have shown their support by investing in the center. A gift from Harmac Medical Products of Buffalo will fund scholarships, support applied faculty research, and help purchase equipment for the lab.
"We are proud to be part of this new vision and opportunity to strengthen the partnership between academia and industry," said John Somers, Harmac president and CEO.
SIGMA Plastic Services of Schaumburg, Illinois, provided a $3.7 million gift of SIGMASOFT® 3D Polymer System Simulation Software through the efforts of plastics engineering technology alumnus Jim Chiamardas '00.
"Students will acquire in-depth knowledge of SIGMA products and be able to put what they have learned into practice after graduation," said Chiamardas, president of TPStek, which will provide technical support for the software.
Pittsburgh-area companies MEDRAD and Philips Respironics also have donated valuable equipment to the center and committed to support future research and design projects.
The School of Engineering also now offers a 14-credit undergraduate Medical Plastics certificate that can be pursued in conjunction with the bachelor's degree in Plastics Engineering Technology. The inaugural class of students with certificates graduates in May.