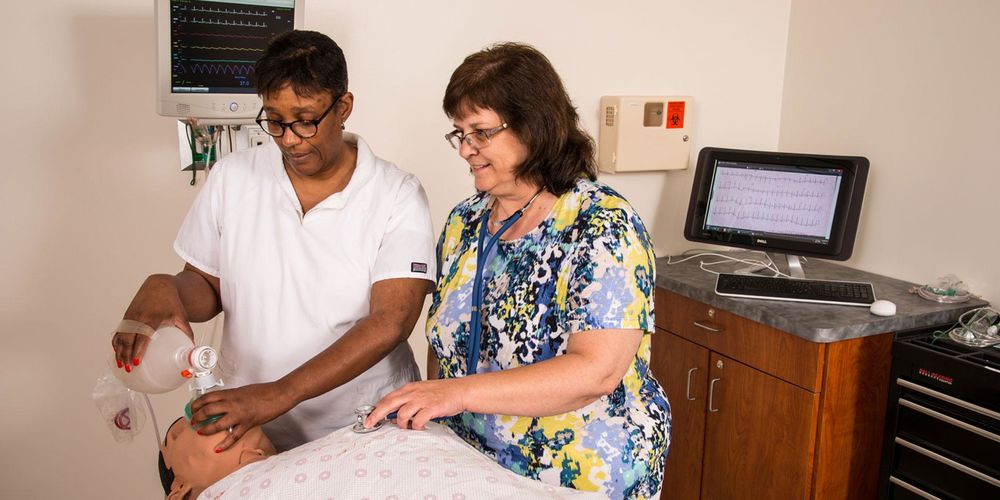 The patient — a young man — is bleeding from his forearm. His pupils are dilated, and his blood pressure is dropping. His student nurse quickly assesses his condition and decides her first priority is to stop the bleeding. She applies pressure to the wound.
Her instructor sits in front of a computer, watching through the glass. With a few keystrokes, the instructor makes the young man lose consciousness to see how her student handles it. Will she panic? Will she know what to do next? Have the classroom lessons sunk in?
The stakes are high when dealing with humans, but here, the young patient is a programmable human simulator. If he doesn't regain consciousness, there won't be a funeral. And there won't be any punishment for the student, either.
"We don't grade students on what they do in the simulation center because we don't want them to be afraid to make mistakes," said Susan Roche, lecturer in nursing. "It is better that students make—and learn from—their mistakes here, rather than in actual practice."
The Simulation Center at Penn State Behrend looks like a hospital room and offers an authentic clinical setting, complete with fourteen programmable "patients" of all ages and sizes, from infant to elderly adult.
The simulators can be programmed by the instructor to replicate a wide range of health care scenarios, from cardiac arrest to giving birth. They can bleed, blink, and talk. They can also realistically respond to interventions such as CPR and intubation.
"It's as close to the real thing as we can possibly get," said Dr. Jo Anne Carrick, campus coordinator for nursing programs. At $50,000 to $80,000 each, the human simulators aren't inexpensive, but compared to the cost of a human life, they're a bargain.
"The real benefit of the human simulators is strengthening the students' ability to assess the patient, especially when the situation is life-threatening, and take action," Carrick said. "Practicing this in the lab is much safer than practicing in the field, and it gives students a chance to gain confidence."