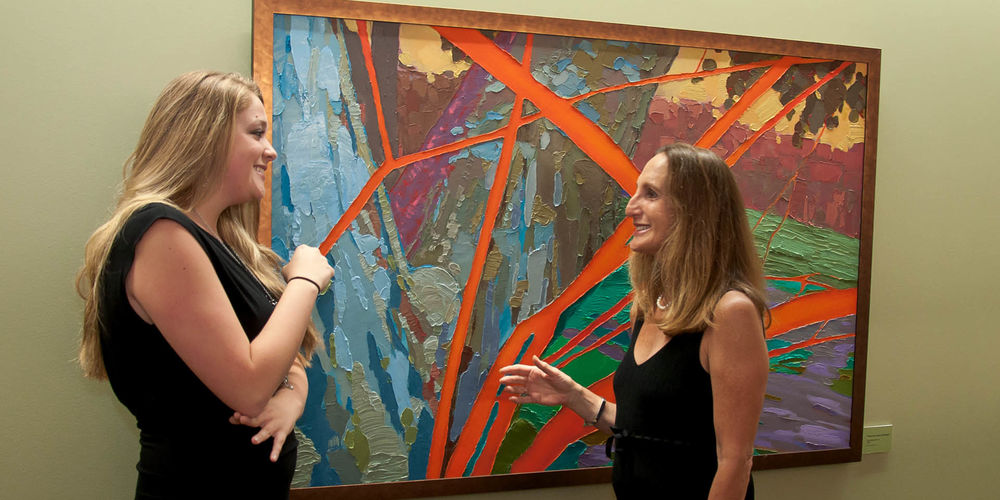 In Rome, at the Villa Borghese, where Pluto clutches Persephone, a snarling three-headed dog at their feet, Franchesca Fee had a moment of doubt: Maybe I'm not a business major.
She was a first-year student then, on spring break, traveling with a group organized by Dr. Sharon Dale, associate professor of art history. She didn't draw, didn't paint, didn't think much about art, but there it was: Pluto, bemused, so sure of his strength, and the dog, all teeth and claws, a proxy for what awaits in Hades, where Persephone will be taken.
She stood there, staring. There was other art: the sculpture of Aeneas, carrying his father. The Caravaggio painting of St. Jerome with his skull. The frescoes at the French embassy, so mesmerizing that she literally tripped as she walked beneath them. But it was Persephone, still fighting, though the battle was lost, who truly moved her.
"That trip kind of changed my perspective on everything," Fee says. "Great art works that way. You can look at a painting five times, and you still see something different on the sixth."
She talked with Dale, who had been developing a new major in Arts Administration. Students would be trained in marketing, management and event planning—skills that would prepare them for work at auction houses, art galleries, museums and music companies. There are jobs there. Pennsylvania alone has more than 20,000 arts-related businesses, employing more than 100,000 people, according to a study by Americans for the Arts, a nonprofit arts-advocacy group.
"You can work at your passion, and you can eat, too," Dale says.
Fee, a junior now, was the first student to enroll in the new major. She already has completed one of two required internships, cataloging the 400-piece collection at Erie Insurance headquarters in downtown Erie. The works, many of which were not labeled, hang in offices and conference rooms, and in a company art gallery.
She likened the internship experience to that of a detective. "You find the medium, you get the dimensions, and you go from there," Fee says. "I loved every minute of it."