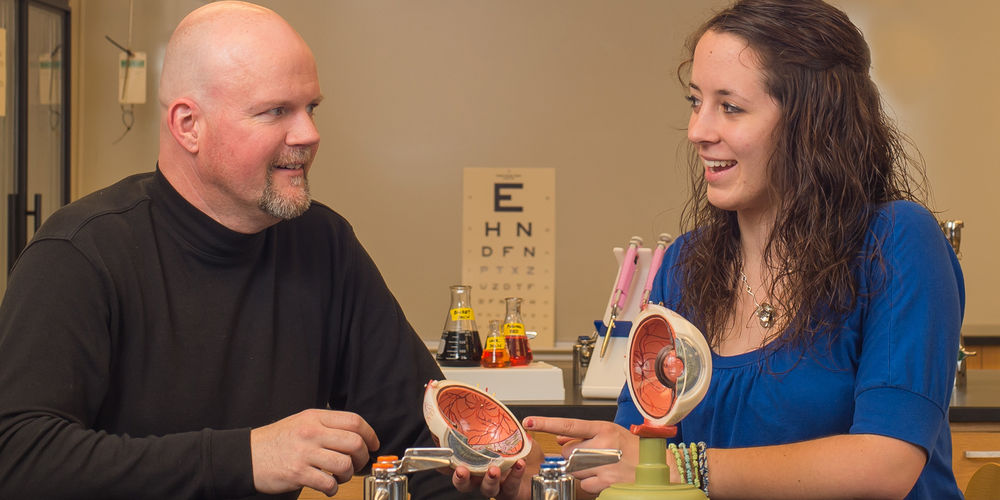 Chelsea Monroe, a Williamsport native, has always been good at math. She also knew she wanted to work in the medical field. When she learned that Penn State Behrend's accelerated optometry program would allow her to spend one less year in school, she knew it added up to a smart career choice.
Here's how it works: Interested student begin their studies in the School of Science, enrolled in the Biology program's accelerated health programs option. After completing three years of coursework and other requirements, students who are accepted into The Ohio State University College of Optometry transfer to Ohio State to finish their degrees.
The arrangement is an opportunity to begin pursuing a Doctor of Optometry (O.D.) degree one year early. A student who completes the program will earn a Bachelor of Science degree in Biology from Penn State Behrend and a Doctor of Optometry degree from Ohio State.
The 3+4 Accelerated Program in Optometry is one of several professional affiliation agreements the School of Science has with other institutions. (Accelerated programs are also offered in Primary Care, Dentistry and Pharmacy.)
Monroe is one of the first students to enroll in the 3+4 optometry program. She completed her coursework at Behrend in May and is enrolled at Ohio State this fall.
"The accelerated program was challenging, but my adviser, Dr. Voss (Margaret Voss, associate professor of biology) and Dr. Justik (Michael Justik, associate professor of chemistry and coordinator of the 3+4 programs) were really helpful," she said. "They kept me on track and made sure I had the classes I needed to finish on schedule."