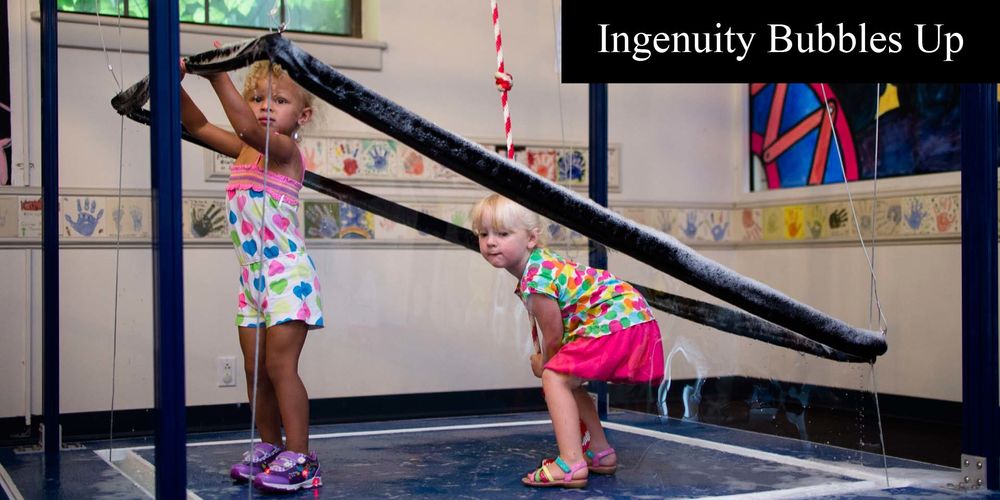 The bubble machine at the ExpERIEnce Children's Museum wasn't as much fun this summer. The bubbles are supposed to be big – a gerbil-ball version of the Dawn-and-water mix we blew across the lawn as kids. But the humidity pops them.
The setup has other problems: The pulley rope keeps breaking. There's rust on the frame. The bubble solution spills out, making a mess of the museum's floor.
Museum officials ask Melanie Ford, lecturer in computer science and software engineering and head of the college's Engineering K-12 Outreach Center, for help. Ford put them in touch with three mechanical engineering technology students – Ryan Alexas, Brian Banaszek, and Eddie Orzehowski – who agreed to build a new, improved bubble machine.
They started by changing its shape. Bubbles are stronger when they form a square.
"It's a lot more reliable," Ford said. "The surface tension is better." That means the bubbles can be bigger, and can last longer.
The pulley on the new machine raises four separate bubble walls. If one pops, the others can hold their shape.
A three-pound counterweight slows the guide rod when a child lets go. That will limit the splashing. A side exhibit explains bubble science: Museum visitors will be able to form bubble sheets, and to push their hands through without popping the surrounding material.
The engineering students tested it – blowing bubbles for credit – in a workshop in Knowledge Park. They showed a video of their progress at the Fasenmyer Engineering Design Conference.
The new machine was installed late this summer.
"The students put their classroom knowledge to work by creating a hands-on exhibit for young children to not only learn from but play with for years to come," said Ryan Brosius, president of the board of directors for the museum. "We hope this is just the beginning of a long-term partnership with Penn State Behrend.
Watch a video created by the engineering students who built the new ExpERIEnce bubble exhibit that highlights their project from start to finish.