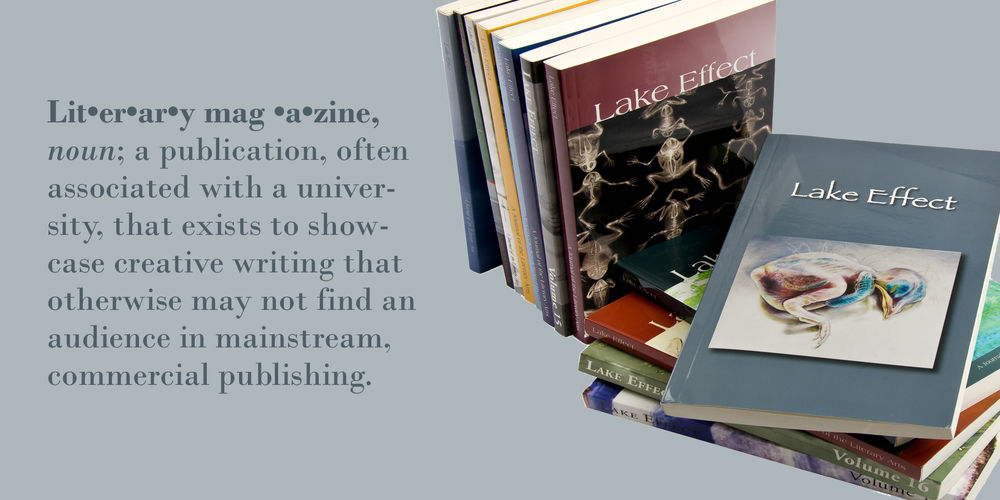 If you want to know pressure, just try writing a creative story about Lake Effect, the college's acclaimed student-run international literary journal.
Tap, tap, tap….backspace, backspace, backspace….tap, tap, tap….
Knowing your work will be read, dissected, and discussed by dozens of creative writing students and faculty members can give even the most confident writer pause. Clearly, they are a group of people who know good—and bad—writing when they see it.
They should. They have plenty of experience culling the thousands of submissions that arrive each year for possible publication in Lake Effect.
Those submissions arrive in hard copy. Black type on white paper. No digital submissions are accepted. And, why should they be? Lake Effect is more substantial than that. It's a printed, perfect-bound book with 200 pages, give or take, of creative prose. Student editors review every submission and decide what gets in and what doesn't.
"Quality is number one," said George Looney, professor of English and creative writing, who has served as an editor at Lake Effect for a decade. "We get plenty to choose from, so we can afford to be picky."
In fact, being picky is the whole point. Lake Effect is an important teaching tool for students in the creative writing program at Penn State Behrend.
"The best way to become a better writer is to read everything you can get your hands on," Looney said. "Not just the good stuff, but bad stuff, too, because then you learn what not to do."
But the lessons learned in working on Lake Effect go beyond writing and editing. Students are also introduced to the business end of publishing. They learn about the processes involved in editing, how to write an effective cover letter, and how to get their own work into print.
"It has demystified the whole journal process for me," said Elliot Smith, a creative writing major and co-editor of the poetry genre for Lake Effect. "I am hardened to the realities of being rejected over and over."
It's a hands-on learning opportunity that few, if any, other students in other undergraduate creative writing programs have.
"Because we don't have graduate students, our BFA students are actually able to be part of the working staff of an international literary journal that is gaining in respect every year," Looney said.
That respect has been hard-earned with the blood, sweat, and tears of dozens of student editors committed to finding just the right words to inspire, educate, and entertain.
Gulp. Did this piece pass the test?
About Lake Effect
Published annually in February
About 800 copies printed
Seventy to 100 submissions received each week
One year subscription is $6; two years is $10
What is a literary magazine?
A publication, often associated with a university, that exists to showcase creative writing that otherwise may not find an audience in mainstream, commercial publishing. Emphasis is on style and insight rather than a fast-moving plot intended for escapism. — Writer's Relief