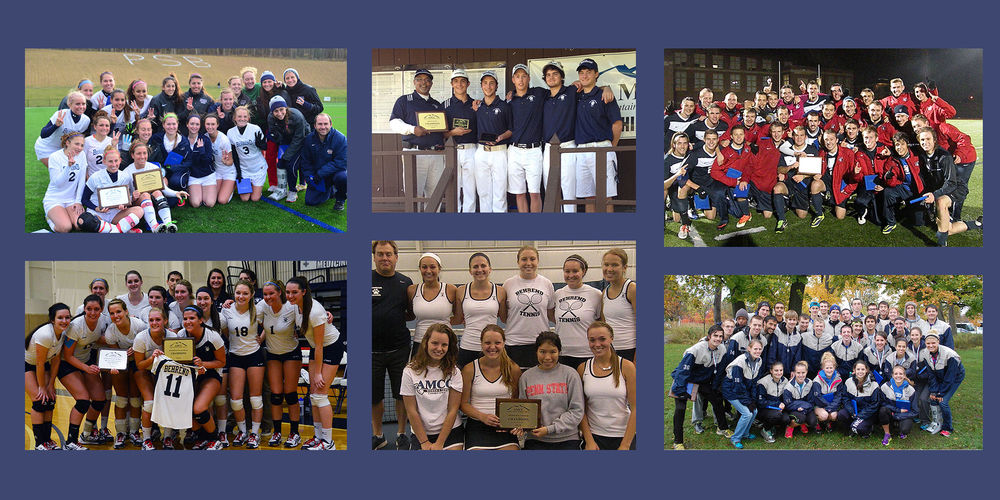 Penn State Behrend swept the Allegheny Mountain Collegiate Conference fall championships, winning titles in soccer, cross country, volleyball, tennis and golf. No school had ever before won all seven titles.
"It's never been done," said Brian Streeter, director of athletics. "That shows the dedication of both our student-athletes and our coaches."
Several teams won on the strength of underclassmen. Freshmen Sam Pace, of Erie, and Alex Bilka, of Cranberry Township, led the women's soccer team in scoring with 13 goals each. On the men's side, freshman Anthony Crivelli, also of Cranberry Township, scored 10 goals. He was named AMCC Newcomer of the Year.
The members of the women's tennis team were all freshmen or sophomores. So were all but one member of the men's golf team.
"All of them are coming back," golf coach James Bowen said. "That puts us in a good position for 2014."
The fall sweep gives Penn State Behrend a big lead in the AMCC Presidents Cup standings. The Lions have 67 points; Penn State Altoona is second, with 45.5 points.
Postseason play has brought even more honors. Cross country runner Catie Bertges, a senior from Erie, was the first female Penn State Behrend runner to compete in the NCAA Division III national championships. She finished 124th.
The men's and women's soccer teams and the volleyball team also competed in NCAA postseason play. The women's tennis and men's golf teams will compete in NCAA tournaments in the spring.
That postseason work has earned Penn State Behrend its highest spot ever in the rankings for the Learfield Sports Directors' Cup, a national award based on NCAA success. The college is now in 64th place.