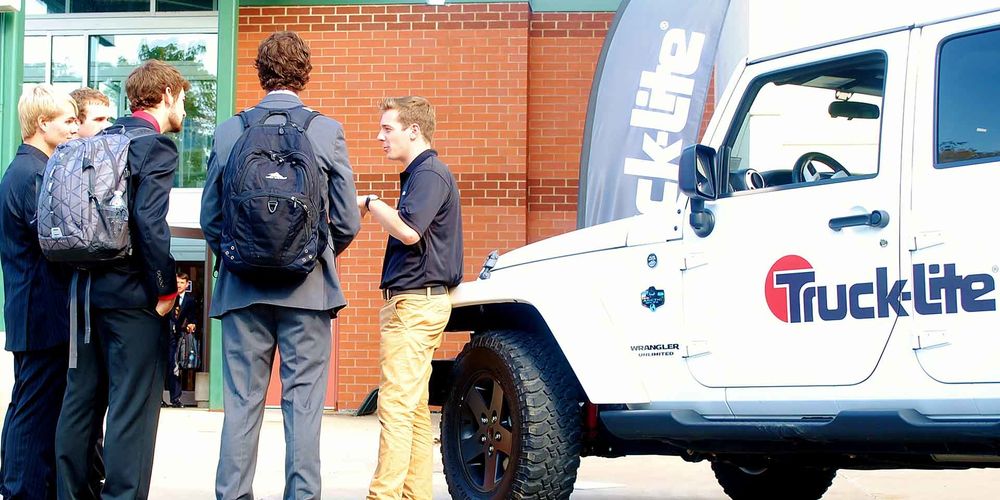 The booming pop music, the customized Jeep Wrangler, the lavish banners — it was all part of the plan for Truck-Lite.
After all, when you're one of 157 companies, you have to find a way to stand out.
"Instead of waiting for students to come to us, we want to make as big of a scene as possible," said Mitch Wilston, communications and products specialist for Truck-Lite. "These kids are inundated with so many companies, and we look at it as creating brand awareness more than anything else."
Truck-Lite was one of 157 companies that attended the Career and Internship Fair Wednesday, Oct. 2, at Penn State Erie, The Behrend College. A total of 1,058 students attended the fair that was organized by the Academic and Career Planning Center and held in the college's Junker Center.
Truck-Lite, a Falconer, New York-based supplier of vehicular lighting products, pulled out all the stops when it came to attracting students. The company's employees drove a jeep to the event, which they parked directly next to the entrance to the fair. The jeep, coupled with the sounds from some of today's most popular musical artists, served as the perfect conversation starter with inquiring students.
"When the students leave, if they only remember a handful of companies, we want them to remember Truck-Lite," said Beth English, vice president of marketing for Truck-Lite. "We want them to leave with the idea that Truck-Lite is a company they'd like to be associated with."
A company's pitch at a career fair is often as important as the pitches from the prospective employees. On Wednesday, many of the students in attendance had varying thoughts on what they wanted to hear from companies.
"When you talk to a company, you want to make sure that you'll have an opportunity to grow," said Brittany Romba, a junior mechanical engineering major.
For Stephen Gronsky, a senior mechanical engineering major, the first conversation with a company is key.
"I'm looking for a good conversation," Gronsky said. "I want to talk to company where it's apparent that they're going to want to have me more than I want to have them."
A good conversation can go a long way and as Truck-Lite proves, some companies are willing to go a long way to help jumpstart that conversation.