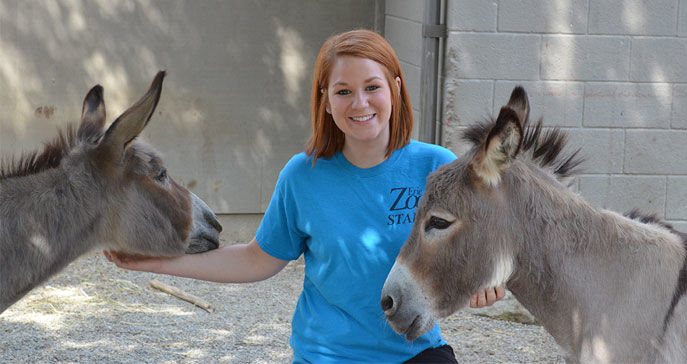 Melanie Biddle never wants to leave work.
"I hang out there on my days off," says the senior Biology major, a part-time zookeeper at the Erie Zoo. "When I'm home, I'm usually doing research on the animals or looking up enrichment ideas for them."
Biddle never planned on training marsupials or helping hooved animals beat boredom. She intended to be a doctor when she entered the pre-med program at Robert Morris University. She quickly had a change of heart.
"I knew right away it was all wrong and that I was making a major life decision for all the wrong reasons," she said.
About that time, she visited the Pittsburgh Zoo and found a new career path at the elephant exhibit after striking up a conversation with lead keeper Lisa Fox Caruso '99.
"Lisa told me she loved her job and that she had gone to Penn State Behrend. I have always loved zoos and animals. I went home that night and applied online."
Biddle wasted no time jumping into her new career. Within six weeks of arriving at Behrend, she began volunteering at the Erie Zoo. A year later, she was promoted to intern. Her first week was a memorable one.
"On my first day, I was helping clean the giraffe house," she said. "I had a long ponytail and Mitch, the older giraffe, grabbed it in his mouth and covered it in saliva. It was gross, but pretty awesome, too. On my second day, a red panda was born."
When the internship ended, the Erie Zoo offered Biddle a part-time zookeeper position in the Children's Zoo. She works with kangaroos, wallabies, donkeys, zebus, llamas, alpacas, sheep, goats, and lorikeets, applying what she's learned about animal behavior and biology at Behrend to come up with new enrichment ideas for the animals in her care.
"I try to think of things we can do to make life more interesting or fun for the animals," she said. "There's an approval process, of course. We have to do research and be sure that the things we do aren't harmful or stressful to the animals."
This summer, Biddle experimented with spraying different scents in the marsupial exhibit and offering them yoga balls to play with. She also froze apples and other treats in blocks of ice to entertain the donkeys and other hooved animals on hot days.
Biddle graduated in December and hopes to soon bid Penn State Behrend kwaheri ("goodbye" in Swahili) and travel to South Africa for four weeks to volunteer at Cheetah Experience. While there, she will be responsible for helping care for cheetahs, lions, leopards, servals, and wolves.
"I've dreamed of doing this my whole life," she said. "It's amazing to me that I've come this far, this fast. Behrend really got me where I wanted to go."
And, now, she's hoping donors will help her get to Africa. She must raise $4,000 to participate in Cheetah Experience. Click here to donate.