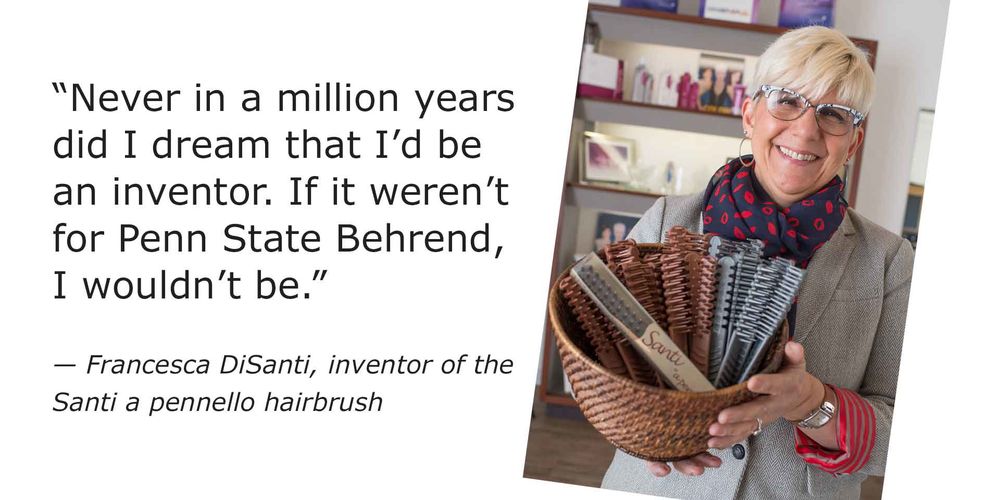 Francesca DiSanti has been styling hair for nearly forty years. For thirty of them, she has been lamenting the loss of a special tool—a flexible plastic brush/comb combo—that made unsnarling curly or tangled hair easy and painless. DiSanti lost the tool early in her career and was never able to find another like it.
She mentioned her dilemma to a client who suggested that DiSanti make her own tool. "I laughed and said, 'Me? How would I ever do that?,'" she said.
The client, Kathy Dahlkemper, Erie's county executive and a former U.S. Congresswoman, told DiSanti she should call Penn State Behrend's School of Engineering for help.
The next day, DiSanti mentioned to a friend what Dahlkemper had suggested. The friend knew a Behrend engineering professor, who in turn put DiSanti in contact with Jason Williams, a lecturer in engineering. Williams thought DiSanti's tool would make a good senior capstone project and included it on a list of thirty assignments that students could pick from at the start of the next academic year.
"The brush was my first choice because I was very interested in making new products," said Chad McDonough, then an upper-level Plastics Engineering Technology student. "I found the whole process of turning a simple idea into a real product exciting."
McDonough jumped in, interviewing local hair stylists and compiling a list of their needs that fit the outline of DiSanti's old brush.
From the moment DiSanti met McDonough, she was impressed. "He was truly interested in my idea and he asked great questions," she said. "He was very enthusiastic."
McDonough worked on the tool over three semesters, spending nearly 400 hours fine-tuning the design, experimenting with various handles, testing bristles, and creating C.A.D. drawings and 3-D models.
"I did a little extra work with the tooling because I figured if it was easy to get tooling made, the brush had a better chance of actually being manufactured," he said. "The final model was sent to mold builders and plastics production companies. With each price and method of production, a customer package was put together that gave DiSanti molding cost, production cost, and unit cost," McDonough said.
By the end of the academic year, DiSanti held her dream in her hand—the "Santi a pennello" brush. "Santi" is a nod to her surname and "a pennello" is Italian for "fits like a glove."
DiSanti sought Erie-area companies to manufacture the tool, choosing a mold maker in North East and a manufacturer in Girard. It was important to her that the tool be as American-made as possible.
She has received nothing but positive feedback. "I've had people ask, 'What's so special about it?' Then they try it and they understand," she said.
The Santi a pennello brush, $25, is sold at various salons in the Erie area, but DiSanti hopes soon to distribute the brush through salons in California and Florida. She has sold about 500 brushes so far.
"It's expensive when compared to brushes you can buy at the big box stores, but you can't buy this tool there and there is nothing else like it," DiSanti said. "I know. I looked for thirty years."
END NOTE – put in ITALICS: For more information or to learn where to buy the Santi a penello brush, email [email protected].