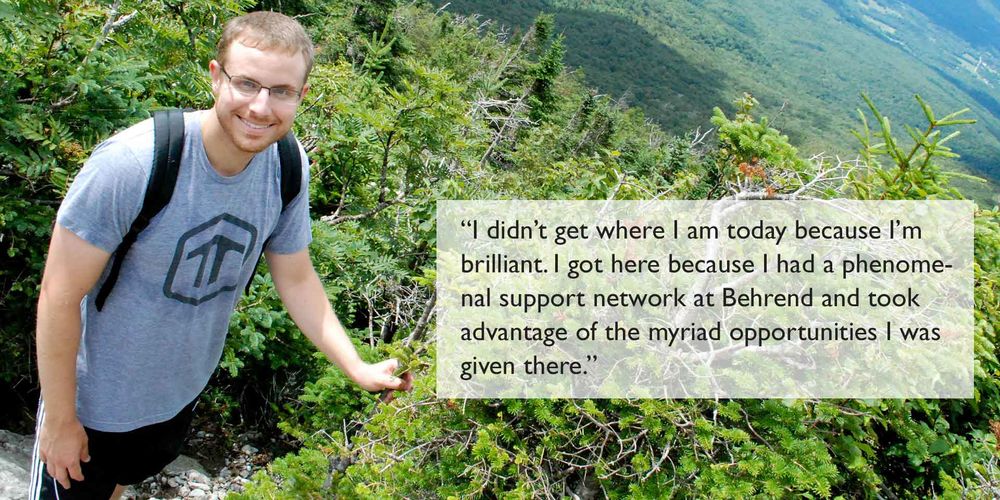 James Hodge '09 says stereotypes aren't always a bad thing.
"Stereotypes are an adaptive mechanism that allow us to see the world with less effort," Hodge said. "If you had to go through life categorizing every single thing you saw or experienced, it would be exhausting. Luckily, the brain developed a shortcut."
The problem, Hodge says, is when we use stereotypes about a particular group to categorize one person.
"When applied at an individual level, stereotypes can lose much of their accuracy," he said. "This is where problems often arise."
Hodge would know. He's been researching stereotypes, prejudice, and discrimination for nearly ten years. Today, he's a fifth-year doctoral student studying social psychology at the University of Vermont wrapping up a four-year study designed to understand the stigma experienced by people living with HIV and AIDS in rural populations.
"We want to learn how community attitude influences perceptions of prejudice and discrimination," Hodge said "As a society, attitudes toward those with HIV and AIDS have become more accepting, but we wanted to understand the experience of those people who live in more isolated, rural communities. Is it the same as living in a large city?"
Hodge traveled across New England, administering psychological measures and conducting face-to-face interviews with hundreds of research participants to find out if they feel stigmatized by their diagnosis, and if experiencing stigma has affected them.
"Participants often say that when they were first diagnosed with HIV/AIDS, they felt very stigmatized, but now, as a society, people have generally become more accepting and the stigma is less apparent," Hodge said.
Hodge sees that as a sign of hope. He says negative stereotypes, such as those surrounding people with HIV and AIDS, can be changed if the person doing the stereotyping is willing to be flexible and think critically.
"When you point it out, if the person has the cognitive resources to see how and why it is wrong, they can change their minds," he said. "We tend to fall back on stereotypes if we are not reflective and consciously thinking about what the stereotype is saying, and why it may not be true for every single person."
Hodge plans to share his research findings with AIDS service organizations and through research articles and conference presentations at the Association for Psychological Science (APS), a professional organization for the advancement of scientifically oriented psychology. Hodge just finished his term as president of the APS Student Caucus (APSSC) Executive Board, and is now serving as past-president.
It's a role he stepped into after serving as the APSSC Undergraduate Advocate, a role most recently filled by another Behrend alumna, Jessica Schubert '09, a sixth-year doctoral candidate in the clinical psychology program at Binghamton University.
Behrend psychology students are no strangers to APS because they have the opportunity to participate in the annual APS convention as undergraduates. Hodge presented research at the international convention every year.
"At Behrend, I was given a lot of chances to do research, present at conferences, mentor other students, and do community service," Hodge said. "I learned early on to take advantage of those opportunities, with a perfect example being the APS conventions."
Hodge said it gave him a leg-up in graduate school. "I acclimated quickly because I'd done a lot of graduate-level work already at Behrend," he said. "I felt so much more prepared than a lot of my peers."
With successful alumni like Hodge and Schubert, it would hardly be a surprise if the Behrend psychology program is stereotyped as a place for high achievers and inspired doers.
"I didn't get where I am today because I'm brilliant," he said. "I got here because I had a phenomenal support network at Behrend and took advantage of the myriad opportunities I was given there."