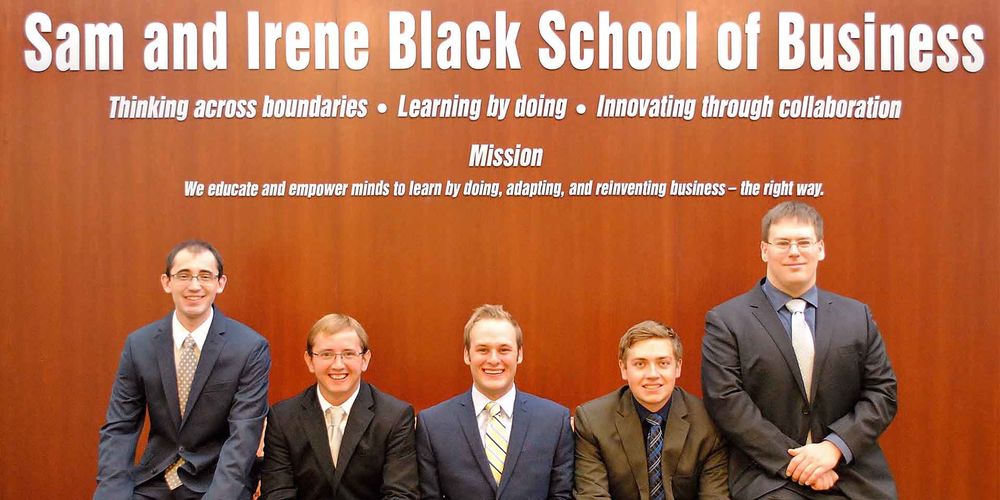 Students to Represent Penn State Behrend at CFA Investment Challenge
Five students will represent the Sam and Irene Black School of Business at the 2015 Chartered Financial Analyst Institute Research Challenge. They will produce a detailed financial report and valuation of Black Box Networking Services, a top provider of voice and data networks, and present their findings to a panel of high-profile financial analysts.
Students from Carnegie Mellon University, Washington and Jefferson University, Indiana University of Pennsylvania, California University of Pennsylvania, Robert Morris University, the University of Pittsburgh and Penn State's University Park campus also will compete in the local investment challenge, which will be held in Pittsburgh. The winners of that competition will advance to regional events in Atlanta, Amsterdam and Manila.
The Penn State Behrend team – Conor Chadwick, Andrew Dylewski and Josh McAleer, of Erie; Ryan Mitcheltree, of Moon Township; and Brad Prosper, of Aliquippa – already have begun to research Black Box, which has offices in 141 countries. The company, which is headquartered in Lawrence, Pennsylvania, is worth approximately $1 billion.
"They had a huge year in 2006, and then it kind of dropped off," McAleer said. "They're spending a lot of money, trying to get back up there."
The CFA Institute started the global research challenge, which is considered the "investment Olympics" for university students, in 2006. More than 3,700 students from 58 countries participated in the 2014 competition.