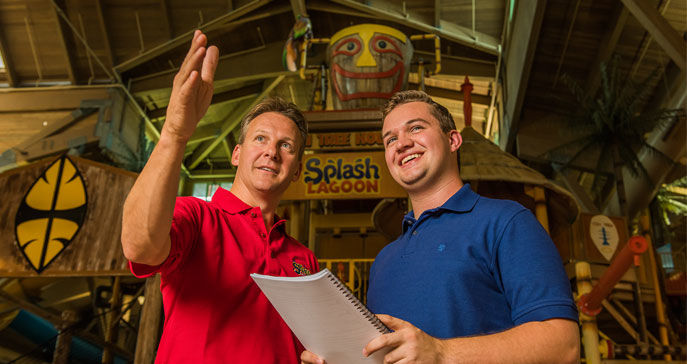 It's not easy getting strangers in their bathing suits to feel comfortable enough to sit down and chat with you, but it was a task quickly mastered by four Black School of Business students enrolled in MGMT 432: Small Business Field Study who completed a semester-long market research project for Splash Lagoon, an indoor water park and resort in Erie.
"We wanted them to evaluate the overall customer experience at the park," said Kelsey Fitch '06, senior marketing manager for Scott Enterprises, which owns the resort.
The students on Team Splish Splash—George Kilbert, Amanda Neville, Brett Pais and Jennifer Schriefer— decided it would be best to engage customers in open-ended conversations.
"We knew that if we asked guests to rank things on a scale, the information we would get would be very limited," said Kilbert, a senior Marketing major. "We wanted them to be able to talk about anything."
And, talk they did, sharing with the students their thoughts and opinions on everything from the water temperature to food prices. Much to the delight of Splash Lagoon executives, the feedback was primarily positive, as was the company's experience in working with students in the Black School.
"The team of students who worked on our project was impressive from the start," Fitch said. "They conducted themselves in a professional manner, maintained communication with me throughout the project, and truly took the time to understand Splash Lagoon as if it was their job to understand customer satisfaction, not just complete a school project."
That's exactly what the course instructor, Dave Causgrove, lecturer in marketing, intended.
"MGMT 432 goes beyond classroom theory," Causgrove said. "Students are doing real work for real companies with real issues that need real solutions. They take it very seriously."
Team Splish Splash eagerly dove into the project, meeting regularly to discuss strategy, conduct interviews, record results, and analyze the information collected.
"Our team put much more into the project than we were required to because we wanted to learn as much as we could," Kilbert said.
But just as important, the students' work was beneficial for their client. Splash Lagoon has already made changes and improvements based on information Team Splish Splash collected.
"I was impressed that they offered solutions to the challenges they exposed. They opened our eyes to the opportunities that exist to help improve our operation," said Nick Scott Jr. '95 HR&IM, vice president and owner of Scott Enterprises.
For Kilbert, the hands-on learning experience was exciting and fun.
"This was definitely the best project I've ever worked on," he said. "I learned so much."
PHOTO: Nick Scott Jr. '95 HR&IM, left, vice president and owner of Scott Enterprises, and student George Kilbert.