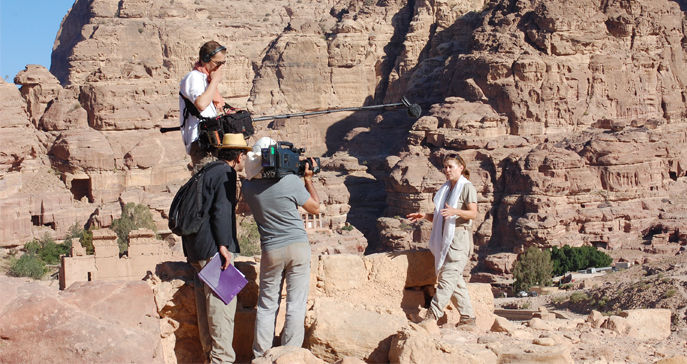 The excavation of an ancient desert garden and pool complex – an archeological project directed by Leigh-Ann Bedal, associate professor of anthropology at Penn State Behrend – was detailed in a documentary feature that appeared this month on PBS, including WQLN-TV in Erie. The full episode can be streamed here. (http://www.pbs.org/wgbh/nova/ancient/building-wonders.html#petra-lost-c…)
The program, "Petra: Lost City of Stone," uses computer reconstructions and hydraulic studies to explore the elaborate water systems in the capital city of ancient Nabataea, located in modern Jordan. The program is part of a three-episode series, "Building Wonders," produced by NOVA. Other episodes explore the Roman Colosseum and the Hagia Sophia in Istanbul.
The Petra ruins are a 2,000-year-old architectural wonder: The site includes temples, a palace, a theater and elaborate tombs carved into cliffs. "Petra: Lost City of Stone" examines how the community's original architects – working in a desert canyon – were able to provide water for bathhouses, fountains and pools.
Bedal, who recently returned from a research sabbatical in Jordan, first began excavating the site in 1998. She has discovered evidence of an elaborate hydraulic system, including channels, pipelines and a diversion tank, which transported water to a monumental pool and a large garden terrace – the only known example of a Nabataean garden.
Penn State Behrend students have participated in the archaeological field school at Petra, gaining hands-on experience while learning about the history and culture of the Middle East.
Bedal's work at the site also was featured in "Time Scanners," a National Geographic special that appeared on PBS in 2014.