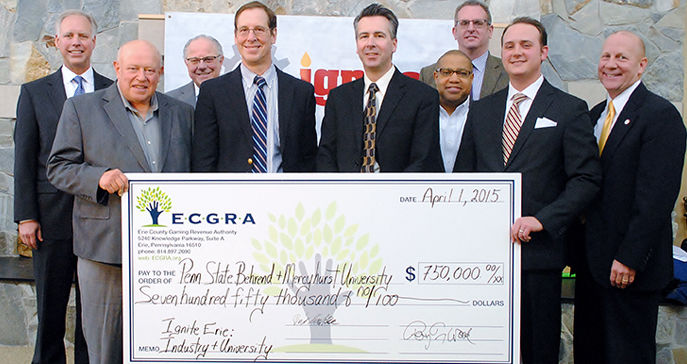 Penn State Erie, The Behrend College, will lead a three-year, $1.5 million initiative to spur business innovation and support entrepreneurs across the Erie region. The effort will boost small businesses and start-ups by creating a network of educational, industry and community institutions that are committed to improving the region's economy.
The Erie County Gaming Revenue Authority will provide $750,000 in initial funding for the program, called the Ignite Erie Industry+University Business Acceleration Collaborative. Penn State Behrend and Mercyhurst University will match that funding, which will focus on four areas:
Growth of existing businesses, including market expansion and the development of new products,
Creation of "maker spaces" – new laboratories and collaborative centers where teams can prototype, experiment and develop new products,
Support for student innovation teams, led by experienced faculty and professional staff, as they solve manufacturing challenges, and
Promotion of open and inclusive networking events, where students, faculty members, industry and community leaders can explore ideas, business models and financing.
Penn State Behrend will be the primary fiduciary agent for the grant. Ralph Ford, director of the college's School of Engineering and associate dean for industry and external relations, and Balaji Rajagopalan, director of the Black School of Business, will co-lead the initiative, which also will seek input from the region's other colleges and universities, and from local public school systems.
"Our business and engineering schools have a record of successful partnerships with industry and start-ups," Ford said. "While Penn State Behrend and Mercyhurst are equipped to manage many aspects of this process, our most notable success for the region will be to establish a vigorous, collaborative entrepreneurial network that unites academic, industry and economic development partners."
Three student-based initiatives will be crucial to the Ignite Erie effort: intern mashups and "Innovating through Collaboration," or ITC, teams, developed at Penn State Behrend; and Quickstarter grants, coordinated by Mercyhurst University.
The intern mashup model leverages student time and talent by allowing companies to work with teams of students from different disciplines – and even different institutions – on projects that are not tied to an academic calendar or class schedule. Students commit to short-term projects or share responsibility for longer, more involved efforts.
The college has used this model to collaborate with SKF North America Aerospace, FMC Technologies Measurement Solutions and Cybersonics Inc., among other companies.
ITC teams typically involve MBA students, undergraduate research assistants and faculty advisors. They apply analytical rigor, critical thinking and expertise in multiple disciplines to help companies analyze new or expanded product markets, develop pricing strategies and improve processes. Micro-grants – typically between $500 and $2,000 – help entrepreneurs obtain legal advice, market assessments and other services.
The Black School of Business has used the ITC model to assist Eriez Magnetics, EMD Strategies and Advanced Finishing USA, among other companies.
Quickstarter teams assist entrepreneurs with graphic design, copywriting and marketing support before and during Kickstarter fundraising campaigns. A 2014 effort involving Mercyhurst students raised nearly $13,700 – more than three times the goal – in just 15 days to help open a new restaurant in Erie.
"Students are at the core of this," Ford said. "Students who see entrepreneurship and innovation as a career option will lead the way to a nimbler, more responsive local economy."
The Ignite Erie collaborative advances "The Path Forward," a white paper prepared by the Council of University Presidents, including Penn State Behrend Chancellor Don Birx. That document called for collaboration among the region's colleges and universities, as well as the public school systems, in order to better support existing businesses and lower the barriers of entry to the next generation of entrepreneurs.
The Ignite Erie funding gives those partners the ability to do even more, Rajagopalan said.
"This will leverage our local business and engineering talent to drive innovation and entrepreneurship," he said. "It will create a pipeline of entrepreneurial-minded graduates whose ideas, with support from local industry and business leaders, can transform our region."