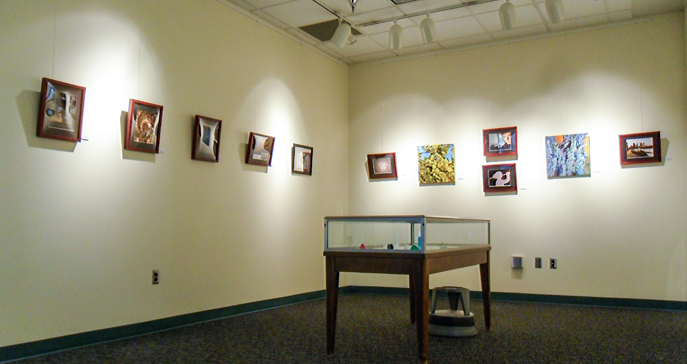 The Spring Art Show at Penn State Erie, The Behrend College, closes May 8. Some art will remain in the John M. Lilley Library, however: The show's coordinators have arranged for additional wall space on the lower level of the library, where art produced by students, faculty and staff will be shown on an ongoing basis.
This was a transformative year for the show, which presents work by 25 artists from the college community. The primary display moved to Lilley Library, where the gallery offers a more formal setting. Other art was used across campus for the college's spring open house, which featured a Community Arts Walk.
Heather Cole, lecturer in digital arts, and Scott Rispin, lecturer in art, collaborated on the show, which received support from the Mary Behrend Cultural Fund. Together, they expanded it from a straightforward student photography show to a professional exhibition in the library gallery.
"In the past, we exhibited unframed works in the hallway of a classroom building," Cole explained. "We were looking for a more professional viewing space. The Lilley Library gallery gave us the opportunity to exhibit the art in a framed, professional manner."
Rispin had been talking with library director Rick Hart about using the gallery, as well as space on the lower level, for exhibits. Things came together last fall, when the Faculty Art Show made its debut in the gallery.
Cole and Rispin also expanded the scope of the spring show to include student works in a variety of media, as well as pieces by faculty and staff. In addition to photography, the show features paintings, drawings and digital art such as collages, scanograms (scanner art), 3D graphics and 3D-printed sculptures. Much of the student work was created for photography, digital arts and painting courses.
The artwork is not arranged by format or artist. "It's always best to hang a show in a way that creates a better experience for the gallery patron," Rispin said.
Students demonstrate diverse artistic talents
Hayden Seibert, a sophomore from Erie, submitted two paintings to the show.
"One was displayed last year in the Erie Art Museum Spring Show and the other is being shown for the first time," said Seibert, who is studying mechanical engineering. "I'm an artist, and I like to share my work."
Krystal Elliott, a sophomore studying software engineering, created her watercolor painting "Spring is Near," which depicts a bird on a tree branch, specifically for the show. She submitted it to challenge herself to do something new.
"I wanted to paint something others could identify with," said Elliott, who is from New York City. "I finally saw a bird outside and it reminded me that winter was nearly over."
Nick Ranayhossaini, a senior majoring in general arts and sciences, had started a charcoal drawing of a skull before learning about the show. He finished it for the submission deadline.
"I often draw skeletal figures, largely because I enjoy dark themes and just think that skeletons look cool, but also because they don't represent anyone specific," said Ranayhossaini, who is from Harmony. "Seeing the piece in the gallery makes me extremely happy. When I get to watch someone walk in and start examining my work, I am extremely proud."
Digital Arts step into the spotlight
The exhibition includes a display case with 3D objects designed by students in Cole's ART168 course, The Digital Medium. The students created the models with Autodesk Mudbox, a 3D painting and sculpting program, and Cole printed them with a 3D printer recently purchased by the School of Humanities and Social Sciences. The students hadn't even seen their creations until they went on display.
"These are their first projects," Cole said. "They wanted to get down to the library to see them right away."
Peter Kalmar, a junior computer science major, created a 3D-printed turtle. He also drew concept art for a sword design and implemented it in Blender, a 3D modelling program. Kalmar, who is from Cabot, said the project was a great way to learn the computer program.
Art at Penn State Behrend will continue to grow
Both instructors hope more artists will participate as they become aware of the blossoming art scene on campus. Cole and Rispin often find that fear or inexperience holds back new artists, who may think their work isn't good enough or might not know how to frame or display artwork.
"All they really need to do is talk to us and we'll help them," Cole said. Rispin has even loaned or built frames for students' work.
Cole and Rispin say there are ample opportunities to further expand the show. That would give arts administration majors experience in planning, executing and promoting gallery exhibitions.
Students support these creative endeavors. "I have high hopes that the college will continue to provide opportunities like this on campus," Seibert said.
About the Spring Art Show
Admission to the show is free and open to the public during library hours.
Parking is available at the adjacent Reed Union Building or in any campus visitor parking lot. Visitor Parking Permits may be obtained from Police Services in Erie Hall.