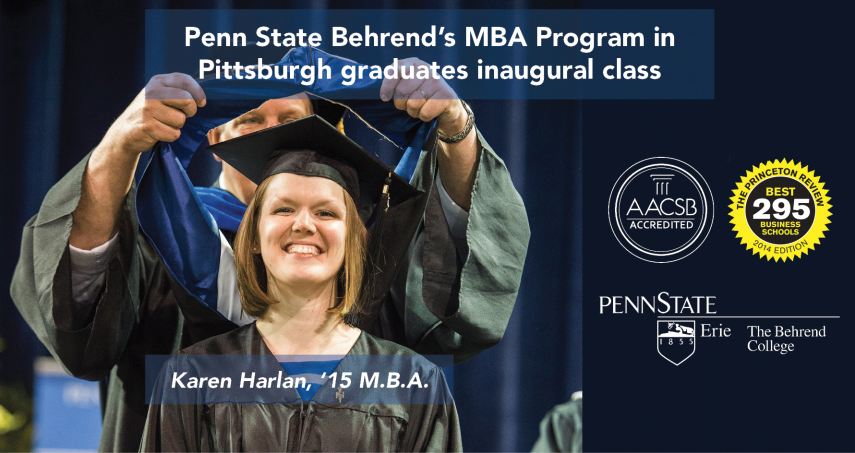 The inaugural class of Penn State Behrend's Master of Business Administration (MBA) degree program in Pittsburgh held its graduation ceremony this past spring at the Pittsburgh Athletic Association, 4215 Fifth Ave, Pittsburgh.
A total of 12 students represented the initial class of the program, which is offered in a flexible blended model — 75 percent online learning and 25 percent classroom instruction — at the Regional Learning Alliance in Cranberry Township. The program emphasizes the continual application of best practices, applied research and forward-thinking ideas.
"I liked that the program was mostly online but still had a familiar in-person component. I chose this program because the classes were held close to home, and because Penn State's name is recognizable," said Nate Zuzack, a graduate of the program who works as a project coordinator at Ariba, a SAP company. "In the long term, I hope my MBA makes me marketable to a broad range of companies and functional areas."
The Pittsburgh MBA is taught by the same faculty members and offers the same curriculum that the Black School of Business at Penn State Erie, The Behrend College, has been offering for almost three decades. Improving students' marketability upon graduation is a key goal of the program, said Alfred Warner, program chair for the MBA.
"We've found that those who obtain an MBA typically have greater opportunities to quickly progress in their career because they bring additional abilities in finance, marketing, HR and other business skills to the table," Warner said. "I have to say that I am very happy with the first class of students in Pittsburgh and their contributions to the program."
For the sixth consecutive year, Penn State Behrend's MBA program has been ranked among the best in the country by U.S. News & World Report and The Princeton Review. Penn State Behrend's Black School of Business is accredited by AACSB International, a designation that only 15 percent of colleges and universities worldwide have obtained.