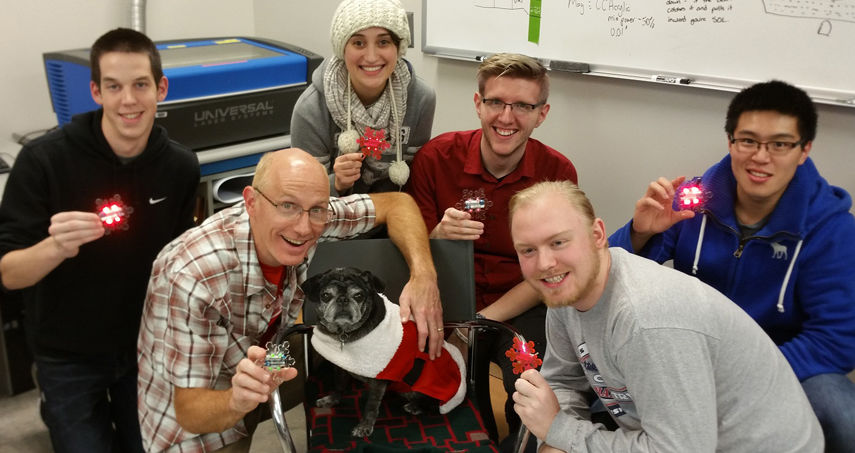 The upcoming holiday season offers the perfect distraction for stressed-out students. In this last week of classes, we found plenty of holiday cramming going on with every area from Housing and Food Services to Student Activities to the School of Engineering fitting in some festive merrymaking before the semester ends.
On a recent Wednesday evening, a dozen students gathered in an electrical lab in Burke 145 to munch holiday treats and craft acrylic LED ornaments with Dr. Chris Coulston, associate professor of electrical and computer engineering.
Students first drew snowflakes on computers using CorelDraw and added any text they wanted before sending their creations to the laser printer to be cut out of acrylic. Then, they used soldering irons, wire, LED lights, and batteries to make their snowflakes glow.
Though the Makers group meets fairly regularly, Coulston refrains from calling it a club.
"It's more like a gathering of like-minded makers," he says. "I just invite students to show up and make something. It gives them an opportunity to try some of the tools we have, like the laser cutter and soldering equipment."
Ultimately, though, it's about encouraging critical thinking and creativity, which are key concepts for engineering students to grasp.
"We try to come up with things that challenge them or make them look at things in a slightly different way," Coulston said. "For instance, before Thanksgiving, we made LED hot dogs. Who'd have thought you could light up a hot dog?"
While there may be no practical application for glowing frankfurters, there is certainly a demand for people with the creativity, technological skills, and theoretical knowledge to use ordinary objects in a truly unique way.
While the majority of those who attend Coulston's Maker gatherings are engineering students, he welcomes all students and faculty members.
"I'd love to have some artists and scientists join us, too," he said. "The more, the merrier. They'd probably have some really cool ideas."
Coulston brought a special guest to Wednesday's gathering, his pug, Shiloh, dressed in her holiday best.
"Anyone can get a picture with Santa, but where else can you get a photo with Santa Pug?" he says with a smile.
Just like an engineer, always looking to improve the original product.