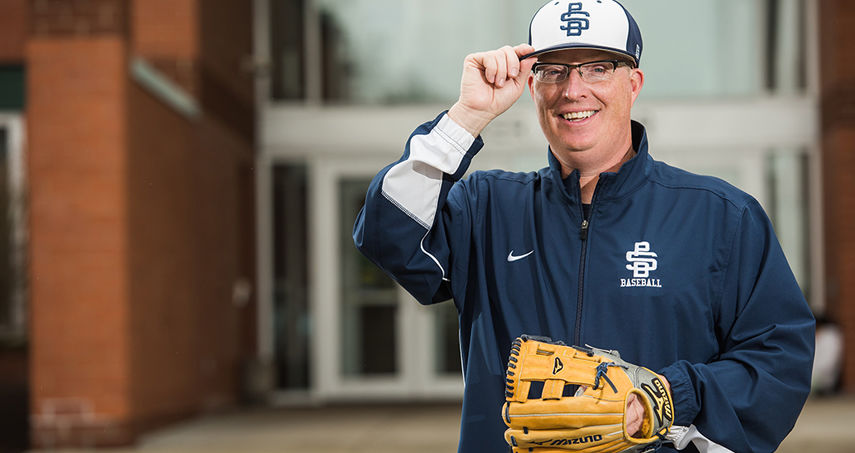 Penn State Behrend head baseball coach, Paul Benim, has been chosen the 2016 Baseball Person of the Year by the Erie Country Baseball Umpires Chapter (ECBU). Benim will be honored at the City/County All-Star Banquet on Sunday, June 12 at 6:30 p.m. at the Penn State Behrend Dining Hall.
The "Baseball Person of the Year" is an award given to a Living Member of the Erie County Community who has been devoted to the development, support, and encouragement of baseball in our area for years. The recipient of the award must have a passion for baseball and made a major impact toward baseball in the Erie County area. The individual demonstrates integrity, be of good character, have good communication skills, be a leader, have a positive attitude, have and exhibit ethical behavior, and be honest as key values with his work and his involvement with baseball.
Coach Benim has been involved in baseball as a coach or player all of his life. The coaching veteran just completed his 21st season to boast a 559-313-4 overall record. During Benim's tenure, the program has earned victories in 63 percent of its games, with nearly every school record being broken. The program has made the conference tournament 16 times, won three regular season and five conference tournament titles, and finished runner-up six times. Benim is also a five-time AMCC Coach of the Year.
Throughout the year, he holds baseball clinics for youths of all ages to help improve their baseball skills and knowledge and to learn to be a team player. His coaching, leadership, integrity, and character developed student-athletes who have made successful careers after graduation.