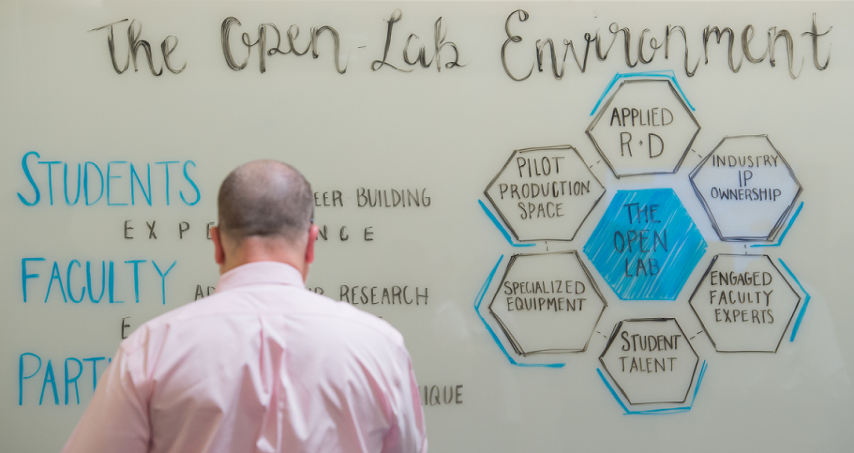 In a Sept. 27 talk at Erie's Jefferson Educational Society, Penn State Behrend Chancellor Ralph Ford laid out the vision for an innovation ecosystem, an active network of innovators and entrepreneurs backed by educational, industry and government partners. In addition to guiding start-up companies, which often falter as they move from prototypes to full commercialization, such networks benefit the communities that host them, Ford said. Young companies that gain support tend to stay in the communities that have assisted them, rather than risk losing access to the bankers, patent attorneys, angel investors and others that have guided them to their early success.
"Universities have always had a significant role in these systems," Ford said. "We have access to students, faculty experts, ideas and services at a scale that no one else can match."
Penn State Behrend has embraced the role, both in Knowledge Park, the 125-acre technology complex operated by the college, and in Innovation Commons, an idea lab and "maker space" in the Jack Burke Research and Economic Development Center. The commons was developed with support from Invent Penn State, a $30 million initiative that leverages the University's research, knowledge and entrepreneurial spirit in order to drive job creation, economic development and student career success.
The college also is leading the Ignite Erie Industry-University Business Acceleration Collaborative, a three-year, $1.5 million partnership with Mercyhurst University and the Erie County Gaming Revenue Authority. The effort focuses on growth of existing businesses, including market expansion and new product development, and creation of maker spaces – new laboratories and collaborative centers where teams can prototype, experiment and develop new products.
Institutional collaboration is key to these projects. Students and faculty experts are prototyping a new water filtration system for a local manufacturing company – a project brought to Innovation Commons through the Ben Franklin Technology Partnership. Other students are refining a low-mobility shoe-tying system, which was first conceived during a senior capstone project. A patent for the design is pending.
The work is drawing notice, both in and beyond Erie. A recent cover story in the Erie Reader positioned the college's new Advanced Manufacturing and Innovation Center (AMIC), which houses the region's most powerful environmental scanning electron microscope, as well as other technology, as a new engine for local innovation. "Although ideas come from people and not physical structures, what people have access to is vital to the creative process," the author, Ben Speggen, wrote. "The list of features for the AMIC building is impressive, to say the least."
A September report from the Brookings Institution highlighted the AMIC opening and the Ignite Erie collaboration, which purchased 3D printers, laser cutters and metal-cutting machines for each school district in Erie County. A dispatch from James Fallows, a national correspondent for the Atlantic, also noted the college's efforts to support a more collaborative economy.
"In the very same terrain that was just described as Rust Belt loser-land in a big presidential-campaign rally, and whose urban landscape clearly shows the structural and human marks of traumatic change, people are also trying to anticipate and adapt to those changes, to improve their individual and collective futures, and generally to behave as if they are actors in their own dramas, rather than just being acted upon," Fallows wrote. "Being active, rather than passive, is one working definition of today's American Idea."