Family members and former colleagues gathered Oct. 6 to dedicate the Ben Lane Plaza, an outdoor seating area at the south entrance to the Reed Union Building.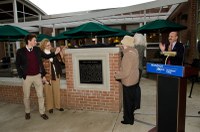 Family members unveil the plaque at the Ben Lane Plaza.
Lane would have liked that. The Penn State Behrend campus was central to his life. Hired in 1954 to teach English and theater, he went on to serve as director of admissions and dean of student affairs.
"Ben Lane loved this place," said Mary Beth McCarthy, director of the Academic and Career Planning Center. "He was just unbelievably optimistic, all the time. He got so excited about everything that happened here."
Lane retired in 1985. He never really left the campus, however. He and his wife, Carolyn, remained in their little yellow home on Jordan Road. The house was surrounded by fields when they bought it; now, the Jack Burke Research and Economic Development Center is in the back yard.
Burke, the former chancellor, spoke at the dedication. So did John Lilley, the former provost and dean. Chancellor Don Birx also addressed the crowd, which included several members of Lane's family.
Lane died in 2011. Ken Miller, director of student affairs, suggested the plaza, which was added during a $1.2 million renovation to the Reed Union Building, be named for him.
"He so much enjoyed being around the students," Miller said.