On the track, where he'd set his backpack, Corey Fetherlin checked his notes for FPD Co., which provides titanium forgings for the aerospace industry: "Small company. Family owned."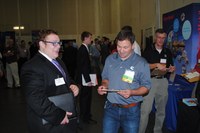 He liked the sound of it.
He checked his resume, then his necktie. He took a deep breath. "It's a little bit competitive in there," he said.
Fetherlin will graduate in December with a degree in mechanical engineering technology. He'd prepared for the Oct. 3 Penn State Behrend Career and Internship Fair, which crowded the Junker Center with corporate banners: Alcoa, Allegheny Ludlum, Honda, Channellock, Rockwell. But he had competition: More than 800 students attended the event, which was organized by the Academic and Career Planning Center.
"It's a little bit like speed dating," said Jane Kanaitis, a senior who is studying mechanical engineering. "You just try to get your name out there."
More than 140 companies were represented at the event. Thirty set aside time afterward to interview students for full-time, part-time, co-op and internship positions.
"I can't get engineering graduates with the qualifications we see here," said Dave O'Neal, the engineering director for DLH Industries, which makes plastic fittings for automotive companies.
The Ohio-based company employs 460 people. That number could easily double, or even triple, O'Neal said.
"We're in a growth spurt," he said. "I'm hoping to leave here with 20 or 25 resumes."
Other markets also were represented. The Cleveland Cavaliers scouted marketing majors and MBA students. Millcreek Community Hospital talked to nursing and communications majors. Enterprise Rent A Car wanted accountants.
Sarah Crosby, a senior mechanical engineering major, looked for a job with flexibility – a larger company, with different projects, where she can find the best fit for her interests.
"It's hard," she said. "We haven't experienced everything yet. We don't know what we'll like."