The jobs problem in Erie County, where 10,000 people were unemployed in April, suggests that local employers aren't hiring. But many are.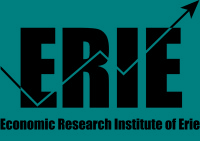 "Some are begging for people," said Jim Kurre, associate professor of economics at Penn State Erie, The Behrend College, and director of the Economic Research Institute of Erie. "The trick is finding someone with the right skill set."
Welders, for example, are particularly in demand, Kurre said. But few in the job pool have that background.
The skills gap will be the focus of this year's ERIE conference, which will be held Tuesday, July 17, in the Samuel P. "Pat" Black III Conference Center at Penn State Behrend. The program begins at 8 a.m.
This is the tenth year for the conference, which draws top government officials, senior-level executives and others invested in Erie's future. "That includes parents and school officials, who must help our young people make wise career choices," Kurre said.
The keynote speaker will be Sandra Pianalto, president and chief executive officer of the Federal Reserve Bank of Cleveland. She is one of just 12 voting members of the Federal Open Market Committee, the branch of the Federal Reserve that sets the direction of the nation's monetary policy.
"This is the ultimate insider's view," Kurre said. "What they do affects interest rates immediately, and that affects all of us."
The conference – "The Skills Mismatch Problem: How Bad is it, and What Can We Do About It?" – also will include presentations by Julia Lane, senior managing economist at the American Institutes for Research; Jake Rouch, vice president of economic development for the Erie Regional Chamber and Growth Partnership; and Joe Miceli, of Pennsylvania CareerLink-Erie.
Penn State Behrend Chancellor Donald Birx and State Sen. Jane Earll will join Kurre for a panel discussion about how to close the skills gap.
Registration for the conference costs $129, or $65 for government agencies and nonprofits. Those prices rise after July 7 to $149 and $75. Any group that registers two people will receive free admission for a third. Proceeds support ERIE and its student research assistants.
Registration includes breakfast, lunch and all conference materials. For more details, or to register, go to www.eriedata.org or call 814-898-7149.