Tuesday's transit of Venus could pose a problem for procrastinators: It won't happen again for another 105 years.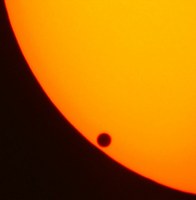 Venus crosses the surface of the sun in 2004. The event will repeat Tuesday, but will not happen again until 2117.
A transit occurs when the silhouette of Venus passes across the face of the sun. Tuesday's will be just the seventh in recorded history. Local astronomers will offer a free viewing of the event, using telescopes fitted with safety filters, at Beach 7 at Presque Isle State Park. The program begins at 6 p.m.
Transits come in pairs – the last was in 2004 – when earth, Venus and the sun align. The next one will be in 2117.
Venus will appear as a small black dot on the sun, similar to a hole-punch. "It's a bit like an eclipse," said Darren Williams, associate professor of physics and astronomy at Penn State Erie, The Behrend College. "But only if you shrink the moon a lot, and put it very far away."
The mark is tiny: Venus covers just 1 percent of the sun's width. But astronomers have learned a great deal from transits since the first was observed in 1639. Early star-gazers used the event to determine the astronomical unit, or AU – the earth's distance from the sun.
"That was the Holy Grail of astronomy in the 18th and 19th centuries," said David Hurd, the planetarium director at Edinboro University of Pennsylvania. "If you could find that unit, you could calculate definitive distances. You could determine how far we are from the sun."
(There is, of course, now an app for that. The free VenusTransit phone app will allow users to time and map portions of Tuesday's transit, and to add that data to an international database.)
Hurd and Jim Gavio, director of the Erie Planetarium, will lead Tuesday's viewing at Presque Isle State Park. Hurd also will speak about the historical significance of transits during a 4 p.m. talk at the Tom Ridge Environmental Center, 301 Peninsula Drive.