Warren philanthropist and businessman Robert D. Metzgar was one of seven Penn State alumni to be honored this year by the Penn State Board of Trustees with the Distinguished Alumni Award. This is the University's highest award to an individual.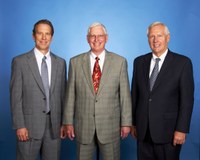 Penn State Behrend Chancellor Don Birx, left, and Penn State President Rodney Erickson flank 2012 Distinguished Alumni Award winner Robert D. Metzgar '60. The Warren philanthropist received the highest honor the University can give to an individual.
The Distinguished Alumni Award salutes the achievements of outstanding alumni whose professional achievements and community service exemplify the objectives of their alma mater. "Only a handful of alums are recognized each year," Penn State Behrend Chancellor Don Birx notes, "so it is exciting that Bob's impact on northwestern Pennsylvania through his support of social services and education for young people and his service university-wide was singled out for this honor." Metzgar received the award at a June ceremony on the University Park campus.
The retired president and owner of Warren-based North Penn Pipe and Supply Inc. studied at Penn State Erie, The Behrend College, for two years before graduating from the University Park campus in 1960 with a degree in business administration. He remained deeply involved with the University, serving on the Penn State Board of Trustees for 14 years and as a member of the Penn State Behrend Council of Fellows since 1994. He received Trustee emeritus status in 2009.
In 1996, Metzgar was named a Penn State Behrend Alumni Fellow, the most prestigious honor bestowed by the Penn State Alumni Association.
Metzgar and his wife, Sally, created the Robert and Sally Nelson Metzgar Leadership Scholarship at Penn State Behrend and, in 2008, gave $2 million to the college for construction of the Robert and Sally Metzgar Admissions and Alumni Center. The two-story, 14,028-square-foot facility opened in 2010 and houses the college's Admissions, Financial Aid, Registrar, Bursar, and Alumni Relations offices. "Sally and I intended that this facility would be an asset both physically and symbolically—serving as the quintessential front door to campus as it welcomes future and current students plus alumni, families and friends," Metzgar said of the project which, at his request, included Penn State architecture students' involvement in the design phase.
Metzgar served as an officer or board member for the American Production and Inventory Control Society, the Pennsylvania Oil and Gas Association, the New York Oil and Gas Association, PNC Bank, the Warren County Chamber of Commerce, the Conewango Valley Country Club, and First Presbyterian Church of Warren, and was actively involved in the Boy Scouts of America, the Jaycees, the Warren County Humane Society and Family Services of Warren County. He currently is a member of the Board of Trustees at Chautauqua Institution and its Development Council.
The Metzgars have two children, a son, Kelly '78, and a daughter, Kathy Metzgar Lang '83, '84, and two grandsons, Kyle Metzgar '08 and Drew Lang, a current Penn State student.