Forget Furby and Lalaloopsy. "Hot" holiday toys rarely stand the test of time. For most kids, interest in these trendy, flashy toys fizzles before the garbage truck carries off the boxes.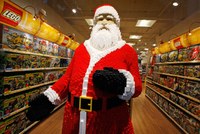 We asked a few Penn State Behrend faculty members who oversee outreach programs for younger students what they would give the kids on their lists. Here are their top choices:
Tracy Halmi, senior lecturer in chemistry:
• Snap Circuits. These make a great gift. They are available in a variety of sets, so you can find one that will fit your budget.
• Legos. Check out legoeducation.us, where you'll find lots of great information and can shop by grade level.
• Books that encourage experimenting. Three good titles: "Apples, Bubbles and Crystals: Your Science ABCs," "Best of Wonder Science," and "ChemClub Cookbook."
Erica Jackson, director, Center for Financial and Consumer Outreach:
• Games that allow kids to play as grownups. Teach kids how to budget their money by giving games like The Game of Life and Monopoly. Both teach children how to live within their means, receive a paycheck, work investment deals and pay their bills.
• Toy ATM. The Hammacher Schlemmer Institute's toy ATM accepts real coins and bills and displays accurate, up-to-date account information on the screen. Kids even get their own ATM card and PIN number.
• Piggy bank or safe. If the child on your list has outgrown cutesy banks, check out these toys by Summit: Zillionz Secret Code Vault ($18) or the Zillionz Voice Activated Safe ($25). Both open only by secret code or your child's voice, which makes saving money more fun – and easier when siblings are looking to share the wealth.
Melanie Ford, lecturer in engineering and head of the Engineering K-12 Outreach Center:
• K'Nex. One step up from Legos, K'Nex are slightly more sophisticated building toys. The roller coaster and simple machines teach students basic engineering and physics principles.
• Origami kits. Origami, the art of Japanese paper folding, teaches students spatial skills.
• Logic puzzles and games. These teach problem-solving skills – a key concept for all future engineers. The Perplexes Maze Game is getting great reviews this year. Mindware.com has many more great ideas.
Tom Noyes, associate professor of English and creative writing, and Kim Todd, assistant professor of English and creative writing:
• Art supplies. Participation in the visual arts helps children develop an imagination and sharpens their eye for detail.
• Award-winning books. Any book is a great gift, but quality children's fiction books, such as Newbery medal winners, are an especially good choice.
• A nature journal. "The Nature Connection: An Outdoor Workbook for Kids and Families" by Claire Walker Leslie is a nature journal full of activities and prompts for each month. Parents can guide younger kids through it on a walk or hike; older kids can put it in their backpacks and do the activities themselves when they feel like it.
Vicki Kazmerski, associate professor of psychology:
• Building toys. Legos, puzzles and Play-Doh build spatial skills and allow for creative expression.
• Board games. Scrabble, Apples to Apples and Oregon Trail are all popular now.
• Books. No explanation needed, really.