The duct-tape regatta had a rough start. One boat sank. Another boomeranged, returning to the edge of the Junker Center pool.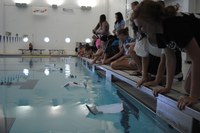 Students launch their boats during the July 10 engineering regatta.
"That boat has a mind of its own," Stephanie Acevedo said, shaking her head.
Acevedo, a junior at Northwest Pennsylvania Collegiate Academy, built the boat, using duct tape, plastic sheeting, a DC motor and AA batteries. The July 10 project was part of the Minority College Experience (MCE) and Women in Science and Engineering (WISE) programs at Penn State Erie, The Behrend College. The seven-week summer session helps high school juniors explore possible academic and career paths.
Jordan Kerr, a Collegiate Academy classmate, helped build the wayward boat. She adjusted the straw rudder and set it back in the water.
Again, it returned to her.
"That boat loves us too much," Kerr said. "It just keeps coming back."
Dipo Onipede, an associate professor of mechanical engineering, encouraged the girls to keep trying. From his perspective, the false starts were a good lesson.
"There's no one right answer here," he said. "What matters is that they're working together to solve a technical problem."
The boat race is just one part of the MCE/WISE program. The 45 students who enrolled this summer also will dabble in psychology, college-level writing, nursing and personal finance.
"We showcase various fields of study for them," said Andy Herrera, director of educational equity. "As rising seniors, these students will soon be making decisions as to what career to pursue. One of our goals is to help them make a more informed decision."
The students also earn college credit. There's incentive to do well: Anyone who completes the program with a grade-point average of 3.0 or higher is guaranteed admission to Penn State Behrend following high school graduation and completion of the Penn State application process.