Chemistry Day at Penn State Erie, The Behrend College, means lab work: beakers, flasks and plotted data graphs. Then the kickball shatters, the Pringles tube launches like a rocket and the pickle makes the light bulb glow white.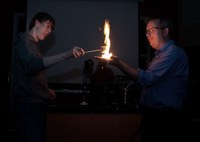 A student roasts a marshmallow on Jerry Magraw's burning palm.
That happens near the end, when Tracy Halmi, the senior lecturer in chemistry, is doing her Mad Scientist bit. She starts it with a spark on a hydrogen balloon.
BOOM!
"This is a little too expensive, and too dangerous, to try in a high school classroom," Halmi said. "It's a pretty good field trip. But we hope they're getting more out of it than that. We hope they're learning something."
More than 140 students from 16 high schools in Pennsylvania and western New York attended this year's program, on May 17. Most are enrolled in honors or Advanced Placement classes.
They started in Penn State Behrend's renovated chemistry labs. Working in teams, they used a spectrophotometer to analyze copper. Then, through acid-base titration, they determined the molar mass of an unknown organic acid.
Then they watched Halmi and senior laboratory technician Jerry Magraw blow stuff up. The explosions were so large, and so loud, they set off the fire alarms in the Otto Behrend Science building.
That's a tradition, Magraw said.
"We do this to get students excited about chemistry," he said. "A lot of times, they sit in class and it's kind of dull, kind of boring. We get them out here, we go into the lab and we do crazy demo shows. We blow things up. We light ourselves on fire. We have all sorts of mayhem, and the students absolutely love it."