Dr. Thomas Noyes, an associate professor of creative writing at Penn State Erie, The Behrend College, was one of five artists honored with a $6,000 grant from the Sustainable Arts Foundation, a San Francisco-based nonprofit that offers financial support to writers and visual artists who also are parents.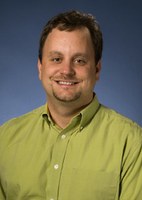 Dr. Tom Noyes
According to its web site, the Foundation's goal "is to encourage parents to continue pursuing their creative passion and to rekindle it in those who may have let it slide. Too often, creative impulses are set aside to meet the wonderful, but pressing, demands of raising a family." Noyes and his wife, AJ, have a daughter, Josie, and son, Wyatt.
In its awards announcement, the Foundation noted that Noyes' writing "impressed us with its quiet tone and understated urgency. Its environmental undercurrent is timely and important, but the stories are never 'issue' stories; they simply map human relationships in a compelling way."
Noyes is working on his third collection of short stories, which revolves around Great Lakes' environmental issues. His second story collection, "Spooky Action at a Distance and Other Stories" (Dufour Editions, 2008), was a finalist for the Richard Sullivan Prize and the Grace Paley Prize in Short Fiction.
His first book, "Behold Faith and Other Stories" (Dufour Editions, 2003), was shortlisted for Stanford Libraries' William Saroyan Prize, and reviewed favorably in many publications, including the New York Times Book Review, where it was praised for its "macabre wit and startling confessions of frailty and delusion."
Before joining the Penn State Behrend faculty, Noyes taught creative writing at Indiana State University and at Concordia College in Moorhead, Minn. He is a consulting editor for Lake Effect, Penn State Behrend's national literary journal, and previously worked on the editorial staffs of Ascent and Quarter After Eight. He earned an M.F.A. at Wichita State University and Ph.D. at Ohio University.