Blood spatter is generally a bad thing at summer camp. (See: Voorhees, Jason.) But the students in Gina Narducci's new "CSI: Forensics" course didn't run from it: They flung it, dripped it, drizzled it and pressed their fingers in it, leaving prints, which Alex Cipolla, 10, checked with a special fluorescent light.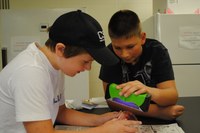 Students examine the fingerprints on glassware during a CSI-style College For Kids science course.
"I like all those CSI shows," Cipolla said. "I always thought it looked like fun."
Given the choice of 100 summer camp classes, he picked crime-scene analysis. The course was added to this year's College For Kids program, which will serve more than 1,000 students over six weeks at Penn State Erie, The Behrend College.
College For Kids offers the typical summer coursework for 6- to 16-year-olds: golf, guitar, martial arts, sculpture. But there's also a space camp, a robotics class and a bridge-design program using K'Nex blocks.
Narducci, a lecturer in chemistry, used the CSI class to teach science. Students inked fingerprints onto balloons, which they inflated; then they traced the ridges. They dusted for prints on glassware and tabletops.
They made fake blood, mixing corn syrup with water and food coloring. They flicked it off plastic knives, noting how the angle affected the spray.
"They're really interested in this, because of all the TV shows," Narducci said. "You have to tell them: There's only one coroner. There's only one toxicologist. It isn't easy to get those jobs."