The first game of an April 25 double-header at Medaille College was all offense for the Penn State Erie, The Behrend College, softball team: The first four batters scored.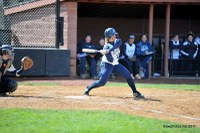 Ashley Gruber
Then it got interesting. Seniors Ashley Gruber and Amy Greene both broke the school record for career doubles. Gruber, of Burton, Ohio, and Greene, of Erie, have each hit 42 doubles. That's three more than the previous record, which was set by Beth Calhoun, a 1998 graduate.
Greene also holds the single-season record for doubles, with 16. She and Gruber are two hits short of that record, which was set in 2009.
"They've both been consistent," head coach Stacy Pondo said. "They're hitting the gaps, just like they need to."
Penn State Behrend won the first April 25 Medaille game 11-1. The team also won the second game, 8-5.
The team will host the Allegheny Mountain Collegiate Conference post-season tournament, which begins Friday.