Matthew T. Bresee '00, president of the Erie BayHawks, the NBA Development League team affiliated with the New York Knicks, was one of eleven young alumni honored for outstanding professional accomplishment at the Penn State Alumni Association's recent Alumni Achievement Award ceremony.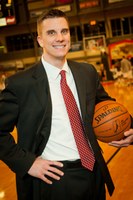 The Alumni Achievement Award recognizes young alumni for reaching an extraordinary level of professional accomplishment before the age of 35. Bresee graduated from Penn State Behrend in 2000 with a degree in communication.
Bresee was promoted in June 2009 to president of the BayHawks after working as vice president of business operations during the team's highly successful inaugural season. His duties include oversight of the team's daily business and team operations, as well as setting direction in all areas within the Erie BayHawks organization. Under Bresee's leadership, the average attendance at the games rose 12 percent to 3,367 fans last season (fourth highest in the entire league) and total attendance grew 30 percent since the BayHawk's inaugural season. Bresee also secured the NBA Development League's first-ever jersey sponsor when the Lake Erie College of Osteopathic Medicine signed a three-year partnership extension. In June 2011, the New York Knicks and BayHawks entered into a single affiliation partnership, which allows for NBA teams to secure control over and cover the expenses related to the basketball operations of an NBA D-League team.
Bresee returned to sports during the Erie BayHawks inaugural season in 2008 after spending three years working in public relations at Erie Insurance Group. Prior to that Bresee spent eight years with the Erie SeaWolves Minor League Baseball team and worked in various capacities with the SeaWolves, including the role of assistant general manager for two years.
Bresee continues to maintain his ties to the college's communication program and faculty, and is a volunteer for the college's FastStart mentoring program for minority first-year students. He resides in Harborcreek with his wife, Sue Roberts Bresee'00, daughter Lindsey, and son Logan.
The other ten 2012 Alumni Achievement Award recipients are:
Heather D. Agnew '03, principal research investigator, Integrated Diagnostics; Los Angeles;
Danielle S. Bassett '04, Sage Junior Research Fellow, University of California, Santa Barbara; Goleta, Calif.;
Ellyn Fisher '99, vice president of public relations and social media, Ad Council; New York City;
John H. Gilmore Jr. '01, tight end, New Orleans Saints; Tampa, Fla.;
Meghan K. Jasani '99, vice president and product manager, J.P. Morgan Worldwide Securities Services; Boston;
Sean A. Misko '04, special advisor to the Special Representative for Afghanistan and Pakistan, U.S. Department of State; Arlington, Va.;
Ronald D. Ondechek Jr. '99, investment professional, Altira Group LLC; Denver;
Herb Sweeney IV '03, senior associate, Michael Van Valkenburgh Associates; Somerville, Mass.;
Christopher M. Thomas '03, '08g, global recruiting director, General Electric Company; Stamford, Conn.;
Daniel W. Veltri '07, co-founder and chief operating officer, Weebly; San Francisco.
Alumni Association Executive Director Roger L. Williams presented each Alumni Achievement Award recipient with a commemorative medal. The medal was commissioned by the Alumni Association and designed by internationally recognized artist Jeanne Stevens-Sollman, a 1972 graduate of Penn State's master of fine arts program.