The women's soccer team at Penn State Erie, The Behrend College, could have quit at 0-6.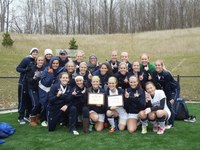 "A lot of teams at that point will start to feel sorry for themselves," head coach Patrick O'Driscoll said. "But this team stuck together. They kept their composure and just kept going for it."
O'Driscoll moved some players to different positions. He adjusted again to accommodate injuries. Along the way, something clicked: The team rallied, building a 12-8 record, and won the Allegheny Mountain Collegiate Conference title, beating Pitt-Bradford with a goal in double-overtime on Nov. 3.
The win gives the Lions a spot in the NCAA Division III tournament. They face William Smith College on Saturday.
This is the team's second consecutive appearance in the NCAA tournament. The players are confident, having been there before.
"There are players on this team who don't know anything other than this," O'Driscoll said. "They've made it to the tournament in both of the years they've played, so they aren't surprised to be there. That improves the overall competitiveness of the team."
Eight Penn State Behrend players were selected to the All-AMCC team. O'Driscoll was named co-coach of the year.
The William Smith team also has confidence. The college's website lists details not only for Saturday's game against Penn State Behrend, but also for a second-round match Sunday.