Penn State Behrend athletes just got a whole new home-field advantage: The college's new soccer, lacrosse and track complexes will be ready for fall competitions.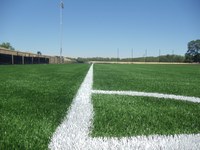 The bowl-shaped soccer and lacrosse facility is just east of the Junker Center. Spectators will sit above the $2.9 million field, which has artificial turf and 80-foot light towers. A second phase of construction will add locker rooms, a press box and additional seating.
"The players are really psyched about this," said Patrick O'Driscoll, the women's soccer coach. "It's a beautiful venue, and the lights will allow us to play night games."
Last season, the team played at Family First Sports Park.
The lights also will expand intramural play, said Rob Wittman, coordinator of intramural and recreational programs.
"Without lights, we're limited to between 5 and 7 p.m.," Wittman said. "That's dinner time. And there are still classes.
"With lights," he said, "we'll go to 11 p.m., and maybe even later."
Other student athletes will take advantage of the new $2.1 million track and field complex, at the northern end of campus. That facility has an eight-lane competition-level track and a separate area for field events.
Future plans include lighting, bathrooms, bleachers and a storage facility.