More people are working in the Erie region than at any time since the start of the 2007 recession, according to the latest Erie Leading Index, which was released Oct. 1.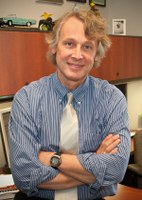 Jim Kurre
"This is good news," said Jim Kurre, an associate professor of economics at Penn State Erie, The Behrend College, and director of the Economic Research Institute of Erie. "We've gained back all of the jobs that we lost in this last recession and are moving into new territory."
Approximately 1,400 local jobs were added in June, Kurre said. That increase – 1.04 percent of the total workforce – was the highest in five consecutive months of job growth.
The June unemployment rate for Erie was still high, at 7.6 percent. Other local economic indicators are strong, however: Manufacturing employment increased, and workers in that sector spent more than 40 hours a week on the job, on average. That suggests the need for even more workers in the future.
The index, which is sponsored in part by Marquette Savings Bank, also tracks the real money supply and the U.S. Index of Coincident Indicators. Both improved in May and June.
For that reason, Kurre is "cautiously optimistic" about the local economy in the coming year. "We don't see a downturn in the next six months to a year," he said.