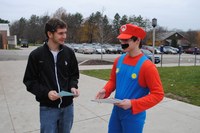 Matt Campbell, as Mario, talks up the Game Developers Club.
"They only had a medium," he says.
He keeps walking. For more than 30 years, starting with "Donkey Kong," where he jumped barrels and dodged fireballs, Nintendo's super plumber has overcome all sort of obstacles: grinders, spikes, inkblots, push walls, turtle shells. A wedgie won't stop him.
Campbell's goal is to cross the Penn State Behrend campus, posting flyers and talking up the college's new Game Design and Development certificate. Matthew White, lecturer in game development, computer science and software engineering, asked him to do it.
White has been scheduling Wednesday open houses in the gaming lab in Burke 152. He sets out a collection of niche games – Elder Sign, Small World, Settlers of Catan, King of Tokyo – ices some Mountain Dew, gathers a few players and props the door open.
"We're trying to get people in to learn about the program," he says. "It's not all scary programming code. There's an element of that, but it's not everything we do."
This week, he's teaching a free seminar on the UNITY game engine. Participants will be able to make their own game in two hours.
Campbell, a junior from Edinboro, is the felt-hatted roving ambassador. He's a walking cartoon: red shirt, blue overalls and a fat black chimney-sweep's mustache. When he approaches, students laugh.
Campbell is OK with that. He has had worse jobs.
"It's like phone canvassing for a political candidate," he says. "If they're on board, people are going to go along with it. They'll give you a couple minutes. If they aren't, they just want you to go away."