FIRST LEGO League competitions encourage critical thinking and teamwork. Students build and use LEGO-based robots to complete specific tasks: to grab or knock down a certain block, for example, or to navigate a LEGO bridge.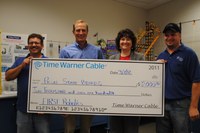 The competitions, which are designed for students between the ages of 9 and 14, are held in 61 countries. This is the second year that Penn State Behrend has hosted an event.
This year's Erie competition will be held Nov. 10 at the Junker Center. The theme – "Senior Solutions" – will ask students to identify and adapt to mobility issues and other challenges that often arise in later years of life. Using automated robots, they will try to spin a pinwheel and topple toy bowling pins.
"The FIRST LEGO League program is a great way for students to learn how important science, technology, engineering and math skills are in their everyday lives," said Melanie Ford, lecturer in Engineering and head of the college's Engineering K-12 Outreach Center. "It promotes teamwork, research, trial-and-error testing and other lessons these students will be able to apply for the rest of their lives."