Josh Bouchard, a student at Youngsville Elementary-Middle School, crosses a model truss bridge during a 21st Century Kids program.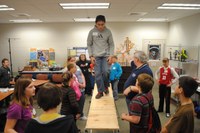 "Nuh-uh," she says, shaking her head. "No way."
She's right to be cautious. An hour ago, this bridge was in pieces, dumped from a bag no bigger than a camp-chair tote. The bolts spilled out with it.
Hendricks and her classmates – 70 students from Youngsville Elementary-Middle School, at Penn State Behrend for a 21st Century Kids program – got busy building.
"It took a lot of teamwork," says Lauren Insinger, who already has crossed. "We had all these pieces, and just a picture to show what it was supposed to look like."
They matched the parts: A fit to B, C to D. But the trusses didn't look right.
"You have that backward," said Ed Evans, a senior lecturer in engineering. He runs the "Bridge in a Bag" program. It's a simple engineering-design test: Take an oversized Erector set, form two rows of equilateral triangles – a classic Warren truss – plank them and walk across the top.
The truss design makes the model stronger. The lack of directions forces the group to cooperate. The walk across is a reward; it shows that engineering can be not only functional, but fun.
That's a good fit for 21st Century Kids, which offers science and engineering programs to middle-school students in rural parts of northwest Pennsylvania. The goal is to open students to new opportunities.
So Hendricks takes a step. And then another. By the middle of the bridge, she's grinning, arms out like a magician's assistant. Her friends take photos with their phones.
"This is the coolest room in the whole school," Evans says.