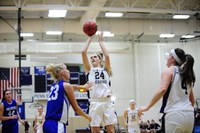 "She still has some time left," said Roz Fornari, head coach of the Penn State Behrend women's basketball team. "We'll see at the end of it where she fits into the record books."
Bourquin, of Fox Chapel, is just the 10th player in the program's history to pass the 1,000-point mark. She has averaged 10.9 points in each game this season.
"She's very consistent," Fornari said. "She's reliable, and she rebounds well, so she's a go-to player."
Bourquin led the team in points, rebounds and field-goal percentage in her junior year. She led with rebounds and ranked second in scoring as a sophomore.
The team travels to La Roche on Feb. 9. The AMCC Tournament begins Tuesday, Feb. 19.