"Every child has a voice," said Alyson Amendola, executive director of the chorus. "Our job is to help them find it and share it.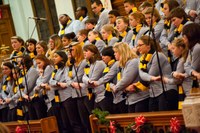 "In four short years, the Young People's Chorus of Erie has helped hundreds of young people benefit from the musical instruction program," Amendola said. "This will allow us to find more students in the inner city who want to use music as a form of self-expression."
Six different organizations will split $60,000 in gaming-revenue grants. The winners were announced Dec. 13 after more than two weeks of online voting at erieuchoose.com.
The contest, which was modeled on the national Pepsi Refresh Project, allowed supporters to vote for one organization in each of three grant categories. The Young People's Chorus of Erie won the most votes in the $10,000 grant level.