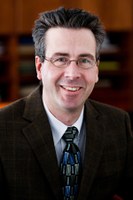 The world's largest technical professional organization, IEEE has 400,000 members in 160 countries and nearly $400 million in annual revenue. IEEE has 38 technical societies, more than 1,500 technical standards, and over three million documents in its Xplore Digital Library that are downloaded eight million times a month. IEEE publishes 148 transactions, journals and magazines and sponsors 1,300 conferences annually.
In this volunteer position Ford will serve on the IEEE Board of Directors and chair the Member and Geographic Activities (MGA) Board. This board oversees one of IEEE's major business units, generating $35 million in annual revenue. In this role, Ford will be responsible for leading the strategic direction of membership growth and development at a time when IEEE is expanding rapidly around the globe.
Ford joined Penn State Behrend's faculty in 1994 and was named director of its School of Engineering in 2005. Under his leadership, the School has created new majors, added new research and outreach centers, increased student enrollments, and raised $30 million in external funds and gifts, including a $21 million gift from the California-based software firm Autodesk. The School of Engineering has increased its national visibility as reflected in its ranking as one of the top 50 undergraduate engineering schools in the nation by U.S. News & World Report.
Ford was a Fulbright Scholar to the Czech Republic in 2005 and is the author of over 40 publications, including the book "Design for Electrical and Computer Engineers" (McGraw-Hill).