The men's soccer team celebrates a last-second win against Medaille. The team finished the 2012 season with a 16-4 record.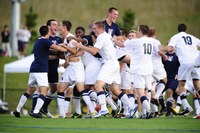 Rankings are determined by the order of finish in regular-season competitions. The top-performing college across 15 sports is awarded the AMCC President's Cup.
Penn State Behrend has won the cup in 11 of the last 12 years.
The Lions are again leading the conference, thanks to AMCC titles in men's golf, women's soccer and men's and women's cross country. Penn State Behrend teams also won regular-season championships in men's soccer and women's volleyball.