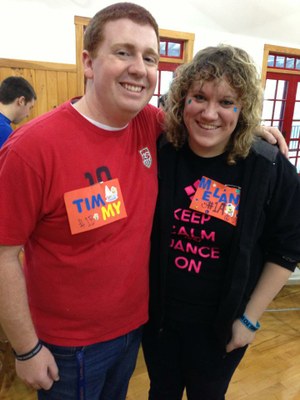 She cut fried foods from her diet. She stepped up her exercise, with special emphasis on leg curls, back extensions and cardio. She stopped drinking caffeine.
She has avoided alcohol as well. A few weeks ago, when she turned 21, she stayed in.
"THON means a lot more to me than any of that," Koster, a junior from Pittsburgh, said.
The dance marathon is one of Penn State's signature traditions. Students from across the commonwealth gather in the Bryce Jordan Center for 46 hours of non-stop dancing. Participants are not allowed to sit or sleep; each is assigned a volunteer "moraler" who encourages them to keep going.
The event has raised more than $89 million since 1977. That money supports the Four Diamonds Fund at Penn State Hershey Children's Hospital; it pays for counselors, social workers, music therapists and other specialists whose work with children fighting cancer often is not covered by insurance.
Koster and Timmy Donovan, a senior from Brackenridge, will represent Penn State Erie, The Behrend College, at this year's THON, which begins Feb. 15. Each will pack a duffel bag with extra clothes: four or five shirts, six or eight pairs of shorts and as many clean socks as possible.
"This isn't something you just jump into," Koster said. "But I like giving back. I've seen what cancer can do. It's terrible. So I can't look at these kids and not want to do something to help, and to give them a chance to live the life I'm living."
She attended the 2012 THON as a spectator. More than 15,000 students were involved.
"You walk in there, and you're just amazed," she said. "There is nothing else like it. You will never go to another place where you feel that much love in one room."