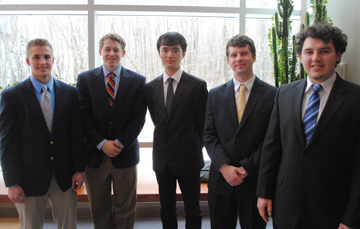 February 26, 2013 – The Investment Research Challenge team at Penn State Erie, The Behrend College, placed third at the Pittsburgh regional competition for the Chartered Financial Analyst Institute Research Challenge. The students produced a detailed financial report and valuation of Consol Energy Inc., a leading producer of Appalachian coal and natural gas, and presented their findings to a panel of high-profile financial analysts.
Teams from Carnegie Mellon University, Duquesne University, Indiana University of Pennsylvania, West Virginia University and the University of Pittsburgh also competed.
The Penn State Behrend team's members – Michael Estabrooks, Anton Jura, Kai Lu, Mason Marion and Andrew McDonald – met with Consol executives and an independent Pittsburgh-based analyst while preparing their report. They determined that the company's stock price – $32.08 on Jan. 26 – was too high.
"We saw it as a good long-term investment," McDonald said. "But the share price strongly correlates with the price of natural gas, and our projections have that going down over the next year."
Each team member spent approximately 150 hours preparing for the competition.
"They did analyst-level work, and they have a report that showcases it," said Greg Filbeck, professor of finance and Samuel P. Black III chair in insurance and risk management at Penn State Behrend.
The four seniors on the team will take the first level of the CFA exam in June as part of a college scholarship program offered by the CFA Institute. "Our finance curriculum is mapped to the CFA program, which makes us unique not only among the Penn State campuses but in the entire region," said Filbeck, the team's faculty mentor. "The CFA designation is highly prestigious and internationally recognized."
The CFA Institute started the global research challenge in 2006. Since then, nearly 10,000 students have participated in the competition, which is considered "the investment Olympics" for university students. The final teams will compete in London on April 12.
Pictured at right: A student team from Penn State Erie, The Behrend College -- from left, Mason Marion, Michael Estabrooks, Kai Lu, Andrew McDonald and Anton Jura -- placed third in the Chartered Financial Analyst Institute Research Challenge in Pittsburgh.