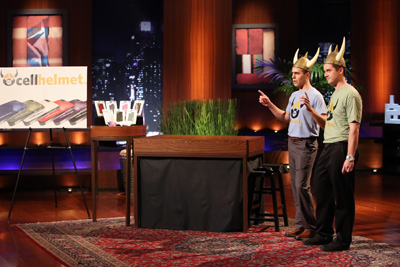 March 8, 2013 – It was television, so he wore a helmet: a spike-topped Viking cap. He also brought a baseball bat.
David Artuso, a 2011 Penn State Behrend alumnus, swung that bat hard, smashing it into an iPhone. He was hoping to impress the A-list investors on ABC's "Shark Tank."
"It was crazy, to say the least," he said. "You would never wear Viking helmets into a normal venture capitalist pitch."
Artuso got onto the show because of cellhelmet, a cell-phone case company he started with two friends. They spent more than 45 minutes with the experts on "Shark Tank," including Mark Cuban, the owner of the Dallas Mavericks.
Artuso and his partners started the company in 2011. They were frustrated by the brick-like design of most cell phone cases. So they designed a smaller one, fit for a pocket, and made it strong enough to offer a guarantee: If the phone breaks while in the case, the company will replace everything for $50.
Artuso invested $10,000, which he had saved from a series of summer jobs. A Kickstarter campaign brought in $10,000 more. "Shark Tank" was a shot at the big money, which could push cellhelmet onto store shelves across the country.
It didn't work. Cuban and the others passed on the investment, saying it would be too easy for big competitors to undercut cellhelmet's pricing.
Artuso, who watched the show with family Friday night, shrugged off the lost opportunity. It helped that two other investors have approached the company since the episode taped, offering to place the cellhelmet cases in Pittsburgh-area Verizon stores.
'''Shark Tank' was not the means of getting our company to where it is now," Artuso said. "It was an accelerator. We have sold more cases in the past week than all of last year, and that was prior to the show airing."