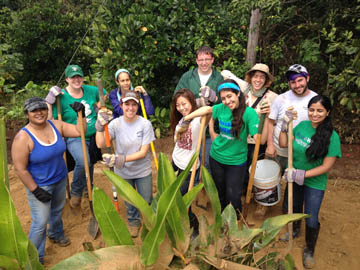 March 6, 2013 – Two dozen members of Reality Check, a service club at Penn State Erie, The Behrend College, are spending their spring break at a permaculture farm in Puerto Rico. The students are planting, pruning, mulching and applying organic fertilizer, growing food that will be distributed across Las Marías, in western Puerto Rico.
The students also are learning the basics of bamboo and earthbag construction – a modern take on ancient adobe architecture. Bags filled with soil or sand are stacked, and then covered with plaster. The method echoes the structure of old military bunkers, or emergency dikes; the process is so simple and low-impact that NASA once studied it for building shelters on the moon.
The group is working and living at Plenitud Eco-Educational Initiatives, a 3-acre organic farm. While there, they can use only natural and organic products – the showers in the compound drain into the forest – and must adhere to a vegetarian diet.
The students arrived in Las Marías on Sunday, March 3. They return March 8.
Alternative spring break trips are a tradition at Penn State Behrend. In previous years, student groups rebuilt flood-damaged homes in Nashville and cleared debris after Hurricane Katrina in New Orleans.
A second group of students is spending the week in Erie, volunteering at L'Arche Erie, the Erie City Mission, Habitat for Humanity and at Mary the Apostle Catholic Worker. That effort is being sponsored by the Newman Association at Penn State Behrend, a faith-based campus service organization.