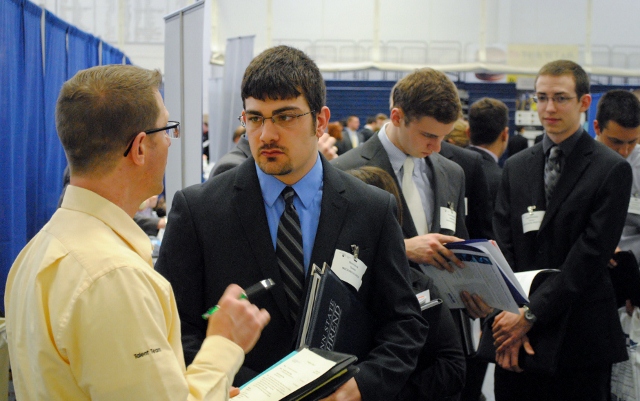 March 22, 2013 - In line for MSA, a $1 billion producer of workplace safety products, Chris Stock practiced his "pleased to meet you" speech. He was hoping for a job, or an interview, or some notes on his resume. Anything.
"It's kind of scary right now," said Stock, a mechanical engineering major. "There's just a month to go before graduation."
He does have options. A record 160 companies and government agencies attended the spring career fair at Penn State Erie, The Behrend College. Thirty stayed late or returned the next day to interview students for open positions.
"We see what the talent is during the day, and then we bring them in to talk," said Toya Mann, a recruiter for Norfolk Southern. The company has employees in 22 states.
"We're the backbone of the country," said Natalie Tullocuh, who also worked the Norfolk Southern booth. "And things are looking really good for us right now. We're hiring a lot of people."
She needs business majors. That sector of the economy is finally reviving, said Carol Capan, the employer relations coordinator who organizes the career fair, which was open to students from any university.
"There are more opportunities for those students than we have seen in recent years," said Capan, who works in the college's Academic and Career Planning Center. Marketing, management, accounting and finance majors are especially in demand, she said.
Companies are working harder to draw top talent. James Lorenzo, a principal engineer at Bayer Material Science, attended the Penn State Behrend career fair for the first time this year. He typically recruits at the University of Pittsburgh.
Lorenzo had just one open position this week. "This is scouting, mostly," he said.
He liked what he saw. "These students are prepared," he said. "They're not shy. They are handling themselves very well."